Cotillons, trumpets, and banners: you've stocked up on accessories for the New Year, but you may still need to think about organizing your party. You should decide on the party's theme and think about it before you start as all decorations and accessories will be chosen according to the colors and patterns you have chosen. Not sure which theme to choose for the last party of the year? Don't worry – in this article, we've put together some exciting themes that you can choose from or be inspired by to create a memorable event! Keep reading!
1. New Year's Eve Disco
Fun and colorful, the Disco theme is still a classic idea to open the New Year in style. Remember the 70s, which everyone considers the happiest of the last few decades.
When you think of the disco theme, the stroboscopic sphere is the first thing that comes to mind. It will undoubtedly be perfect for the decoration of our room, in which we will dance until the morning. Adding colorful hangers and balloons is also a good idea. The best thing is to go to the dance floor for a lively evening, so create a lovely spacious lounge to create a disco floor. Always opt for bright colors that will bring a lot of joy. Collect vinyls, real or fake, and distribute them on the table, on the shelves, and that's it! Everyone will feel transported straight back to the 70s!
2. Charleston New Year's Eve Theme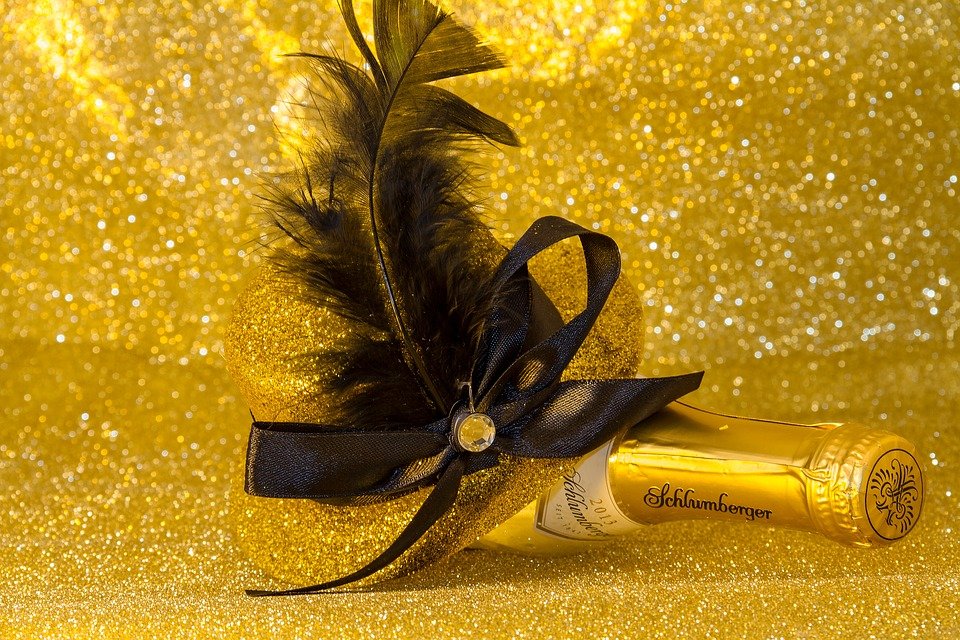 The 1920s are famous for their cultural and artistic charm. Dance, music, cinema, and fashion: all disciplines were raised to the highest level thanks to Coco Chanel, Joséphine Baker, Charlie Chaplin, and many others… Pay tribute to them with a Charleston New Year's Eve party!
These Roaring Twenties brought a wave of feathers and sequins, in shades of gold and black, but also pearls and an accent of baroque style. Let yourself be inspired by these accessories and prepare your Charleston room decorations. Dare and exaggerate on the feathers, thrown on every table, and then add a few pearls. Also arrange a few top hats or bowler hats here and there. Hang beautiful 1920s posters on the wall to create a 100% Charleston ambiance!
3. Hollywood Theme

Mysterious, classic, and subdued, black and white continue to be one of the most sought-after colors for Hollywood themes for the New Year. You cannot be wrong; everything will be well-balanced: a little black, a little white, and all set! Simple and quick to create, the black and white theme requires only a few colorful solids, polka dots or stripes, arabesques, or psychedelic patterns. The important thing is that only black and white colors are chosen.
But if you want to enhance the classic black and white theme in a chic way for your Hollywood theme, there is nothing wrong with that as well. It is astonishing to see the enormous variety of items on the market: tablecloths, feathers, cutlery… Everything is quite handy and reasonably priced for an original, chic, and elegant result. Not forgetting, of course, the more funny and entertaining side which reminds us of the famous world of show business.
4. Masquerade New Year's Eve Party

If no theme has really seduced you, why not go for a masquerade evening? Each person can choose a different one: full masks or half masks; there is an endless selection, and each guest will undoubtedly find the one he or she desires. It will be an effortless way to celebrate the New Year in joy, without focusing on a particular theme.
Feathers, sequins, glitter, and lace, you will definitely start the new year glamorously with this theme.
Does any other interesting theme come to your mind for New Year's Eve that you would like to share? Remember to leave it in the comment section below!
Till then, Happy New Year 2021!