Did you know that nearly 30% of fiances choose the fall months as their wedding date? There must be something in the air or the beautiful colors associated with fall, which makes it a popular season for weddings.
Now, if you are one of the couples who choose to get married during this season, you need to make sure that the colors of the season are incorporated into the decoration of your fall wedding.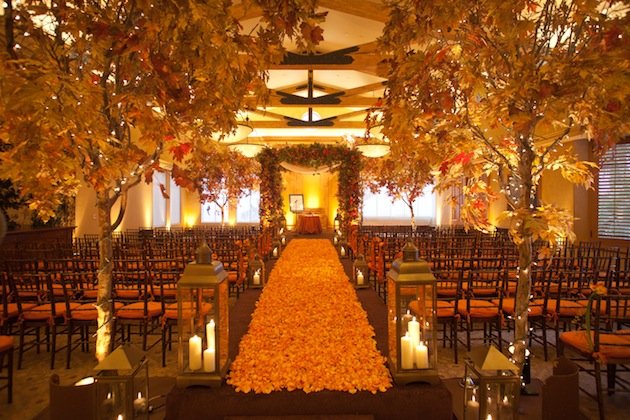 Fall Wedding Decoration: A Quick Look at the Colors and Decorations to Use
When you think of fall, the first thing that comes to mind is usually the beautiful colors of the falling leaves. Rich yellows, oranges, gold, copper, peach and brown are the hues that mimic the natural colors of the season.
Since they are all warm, rich and inviting, why not use all these colors for your wedding? You can choose an accent color that will serve as your main color, but all the other hues will blend together to create a warm and comfortable atmosphere for your wedding ceremony and reception.
You can choose from metallic and jewel tones as your accent color or make it your main wedding color for a unique touch.
Now, in addition to thinking about the colors you will use, make sure to incorporate flowers, fruits and other natural elements of the season to create a truly unique fall wedding decoration.
Flowers you can use are roses, gardenias, mummies, dahlias and zinnias. A bunch or vines and pumpkins are the "trendy" fruits to use for fall wedding decorations. Finally, don't forget the colorful autumn leaves, maple leaves and natural pine cones and corn stalks in a rich brown.
These elements can be combined to decorate the wedding ceremony entrance, aisles, benches, altar, wedding reception tables, entrance and aisles.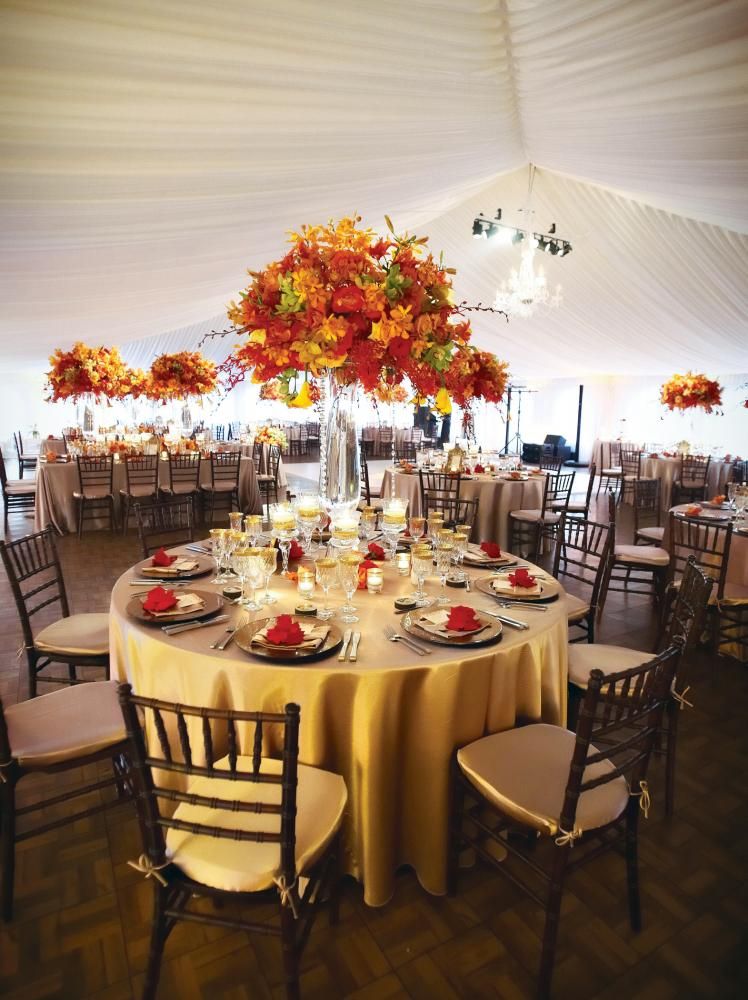 Ideas and tips for wedding decoration in autumn
Here are some essential elements of fall wedding decoration that you should keep in mind when decorating :
1. If you don't know where to start with your fall wedding decoration, start with the wedding dress you have chosen. Does the dress look vintage or classic? Or have you chosen a minimalist dress that has almost no ornaments?
Depending on the dress you will be wearing, you can create your fall wedding decoration so that the decor matches the style of your dress.
2. Autumn is the harvest season, and if you are planning a wedding ceremony and an outdoor reception, everything should look beautiful! You can create a small tree decorated with oranges, maple leaves and crimson berries for your centerpieces. Place them on each reception table, and your guests will surely be delighted with the effort you put into decorating your fall wedding!
3. You don't have to forge the most beautiful flowers of the season, but the fruit can blend in just as well. Pumpkins, vine clusters, pomegranates, every kind of berry imaginable, oranges, apples and pears, all these beautiful fruits can serve as inspiration for the theme of your fall wedding decoration.
You can either use real fruit to create a "bountiful harvest" theme. You can also use floating candles in the shape of flowers and place them on centerpieces. You can even create a beautiful wreath that combines all the elements of fall and hang it near the table or gazebo where the bride and groom will sit to entertain their guests.
With all these tips and ideas for fall wedding decorations, you will indeed have an unforgettable wedding ceremony and reception that will not only look great on your wedding album, but will give you great memories that you will remember for the rest of your life.