No flowers will be lacking on your wedding day, that's for sure! But have you already thought about how to integrate them into your decor? There are plenty of ways to enhance and celebrate your special day using stunning floral arrangements and displays. If you are one of those who chose to bet on flowers' natural beauty to adorn your wedding day, here are some impressive floral decor you can implement!
1) Floral Arch
Whether you're planning a non-religious ceremony or you would like to personalize the entrance door of the church, you can start by making an arch or, better yet, ask a professional to do it for you! We are used to seeing very green arches, often made of vine leaves, but what makes this decorative element so charming are the flowers that are hung on it. Thus, you can choose to fix a country bouquet at the top of the arch for a note of color and add roses in other areas of the arch on a white curtain to make it stay in place.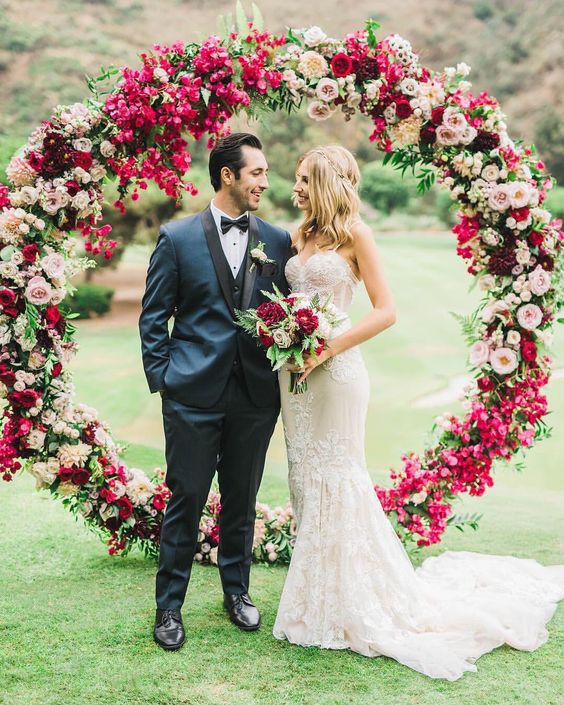 2) Floral Mason Jars
Mason jars are one of the most versatile decorative elements and can instantly enhance your wedding décor. They are practical and can be used and displayed in various ways. For a vintage or country chic wedding theme, mason jars with garden flowers such as peonies and roses can be a beautiful and trendy. You can add white linen tablecloths with lace details for a more classy look.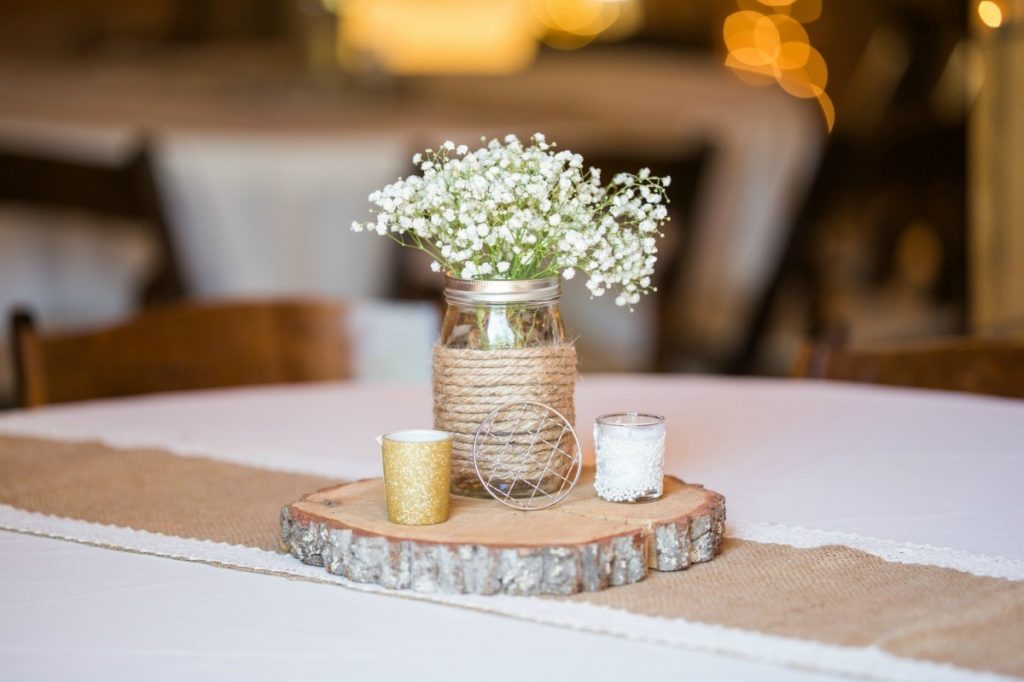 3) A Floral Pathway
Don't be afraid to decorate the main entrance of your ceremony with flower petals. What could be more romantic than to walk towards your loved one on a flower bed? You can also place bouquets at regular intervals along your ceremonial path or hang them on the guest benches or chairs.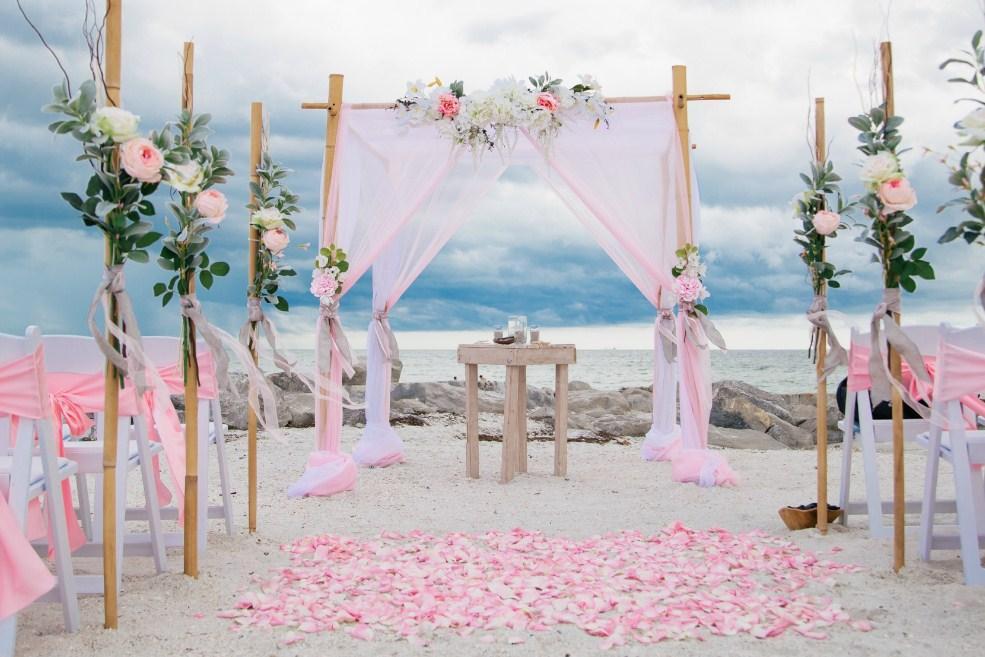 4) Aerial Floral Arrangements
As an essential element for decorating a wedding, flowers are generally arranged in the center of the table. However, nothing prevents you from giving them more height by hanging small vases with bouquets of gypsophila, orchids, or roses above each table. To obtain a cascading effect, opt for falling foliage of wisteria flowers. In addition to their original aspect, the suspended floral compositions also help free the tables and improve your guests' comfort. What could be better than this?!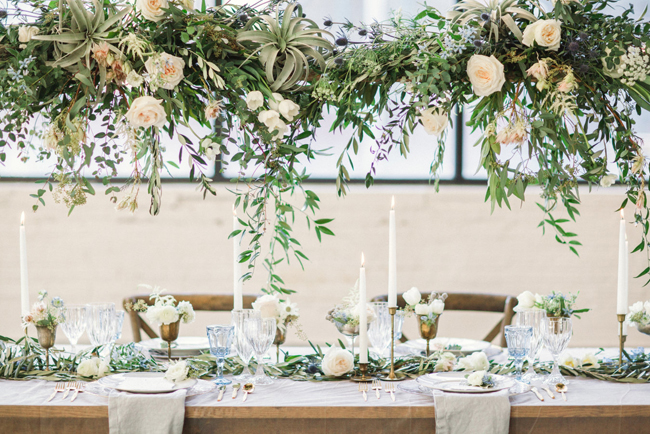 5) Floral Decor for Your Wedding Transport
If you love flowers, don't hesitate to add them to your wedding car decor. It can be a beautiful floral arrangement of roses or peonies on your car's hood, a garland of flowers of all colors and your windshield, a heart shape made with stems and daisies, or a beautiful tulle ribbon adorned with red roses at the back.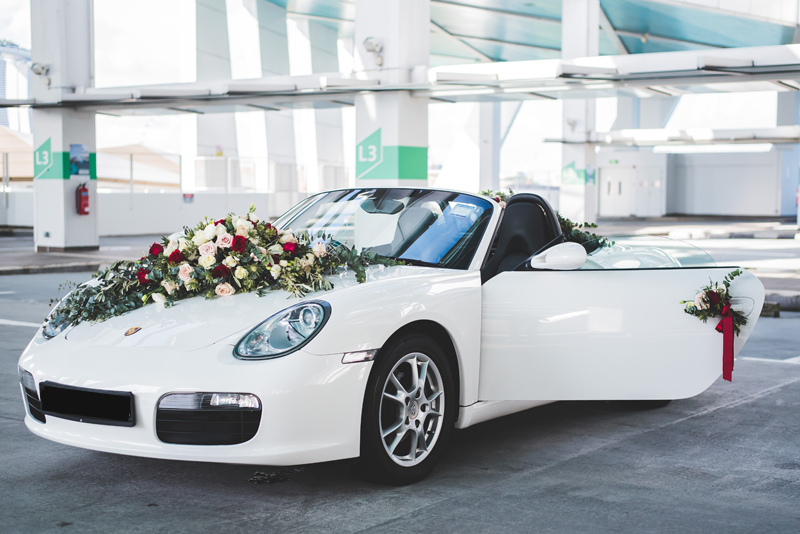 6) Immersed Floral Arrangements
If you didn't know this technique, it's now a thing to do! A centerpiece may tempt you with immersed flowers for a wedding in all transparency and lightness. Add floating candles into the jar and the immersed flowers to obtain a wedding all in light and originality. This type of floral decoration also has the best effects on a buffet.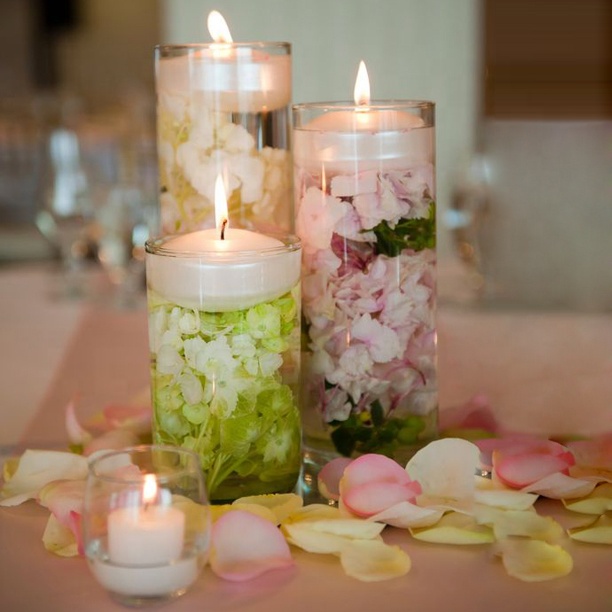 7) Floral Banisters
Even the slightest corners of a venue can be beautifully decorated. For instance, you can decorate stairs and banisters with a bed of peonies and other greenery. This will give the space a more complete and luxurious look and enable beautiful photoshoots. Moreover, guests will enjoy walking down the stairs decorated with flowers, candles, and greenery!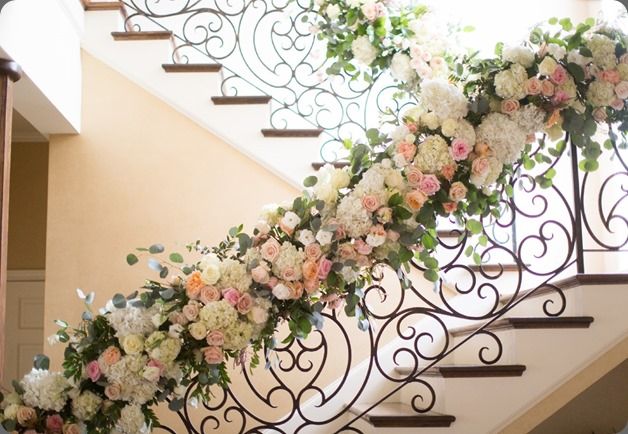 Which of these floral arrangements have you been able to incorporate on your big day? Do you have any other floral decor ideas in mind? Share it with us in the comments below!