Weddings are as unique as the bride and groom, each couple has a very specific look in min when they start planning their wedding. Everything from the hair and makeup to all the important décor are planned and prepared well in advance. We know flowers are an essential part of the décor as flowers are one of the most traditional pieces of any wedding. However, it is not the right choice for everyone, as some couples would prefer to have other alternatives.
Some couples may decide to complement their flower selection with other unique items to reduce their budget.
On the other hand, others choose to completely eliminate flowers from their wedding in the interest of durability. Whatever your reasoning, there are many creative alternatives. In fact, wedding flower alternatives enhance your personality as a couple and create a unique experience for you and your guests.
Here are some of our favorite ideas for a decoration without flowers or with few flowers.
Paper flowers: Using special rolling and folding methods, such as origami, paper can be shaped to look like flowers. Whether it's designed to look like roses or another popular flower, using paper to create your bouquets offers many options to achieve a variety of looks. For example, by using colored paper, you can choose from almost any shade imaginable to create bouquets that perfectly match your color palette. As with real flowers, you can mix and match colors, or use a more creative pattern such as shadow colors. You can also create paper flower bouquets using the sheet music from your first dance song, the pages of your favorite book, or colorful comic strips to add a much more personal touch. While these paper elements can be used to create a traditional looking bouquet, creating a large paper flower would be a great showpiece.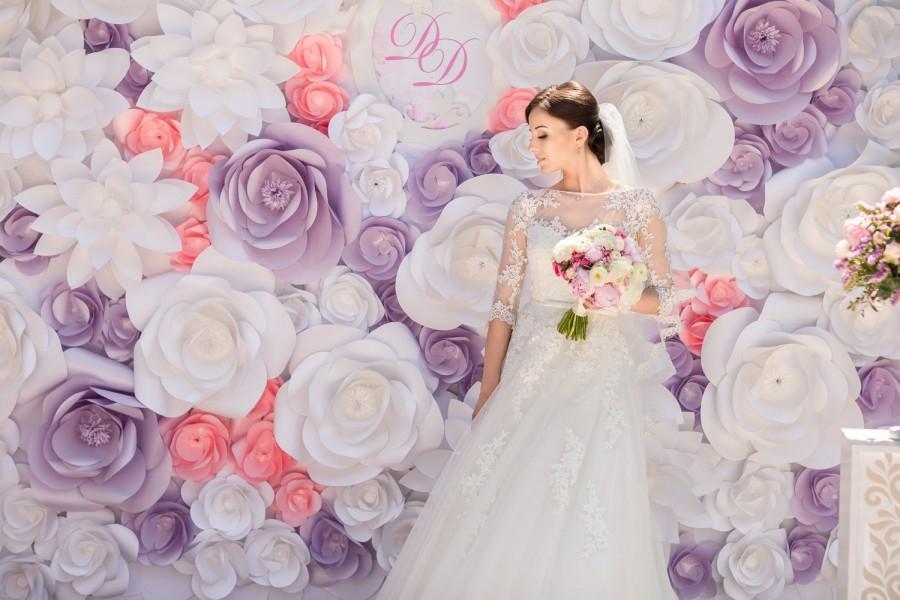 Ribbon Flowers: Ribbons can also be wrapped to give the appearance of flowers. Again, as these fabrics are available in all colors, they are a versatile choice. Bright multicolored ribbons will bring a fun and youthful energy to your ceremony, while silky neutral ribbons accented with jewelry can easily be incorporated into a more elegant and extravagant celebration.
Burlap Flowers: The perfect complement to a rustic themed celebration, faux burlap flowers will make as beautiful a bouquet as large arrangements and presentations. In addition, if you are creating for a rustic wedding, chances are you can use extra burlap in other design elements, allowing you to place a large and economical order.
Seashells: For seaside and coastal weddings, carrying a bouquet of carefully crafted seashells down the aisle is a whimsical way to stay within the theme and use natural elements. In some cases, you may be able to collect the shells yourself, which will completely eliminate an item from your total budget.
Brooches: A fun way to eventually incorporate something old into your wedding is to use brooches for your bouquet. Whether painted or adorned with jewelry, brooch bouquets are a surprisingly unique way to walk down the aisle. You can even incorporate them into a corsage or boutonniere.
Lanterns: For evening weddings, especially those held outdoors, a lantern is an exceptionally unique object to wear in place of flowers. When guests walk in front of you, they literally light your way to your new life as a couple. Plus, the pictures will look beautiful.
Umbrellas: Umbrellas are another fun option for outdoor weddings, especially those that take place during the day, during the warmer months. Not only will they give your ceremony and photos a fun and whimsical charm, but they will work to keep you and your wedding party cool and out of the sun.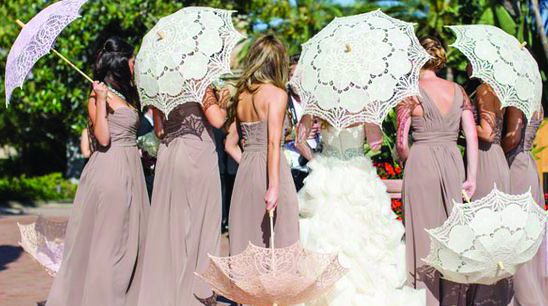 Casters : Although they look like paper flowers, pinwheels are a youthful touch to bring to your wedding. Wearing a bunch of colorful or monotonous rotors in a bouquet is an economical alternative to flowers and will look great on photos.
Fruits and Vegetables: As strange as it may seem at first glance, using fruits and vegetables in your floral bouquet can create a spectacularly unique effect. For example, a single large geometric artichoke would be an accessory to make a statement at your celebration.