We create the best memories in life with our loved ones, whether with friends, a partner or family, when gathering around a table in a nice place and good company. During summer, for example, we can find a thousand reasons to enjoy the sun: for a snack, a birthday, an outdoor wedding… For lovers of social events, organizing everything down to the smallest detail is a pleasure. As there is no self-respecting meeting without a snack, a good lunch or dinner, the table's decoration is an essential aspect.
As with any decorating project, a plan is required first. We must evaluate the number of guests, the location, the type of event we will organize, etc. Below, we give you a few ideas and tips to consider whenever you are planning a party outdoor.
A Formal or Informal Meal
Depending on the option chosen, we will opt for a meeting around a table or a few nice tablecloths for picnics. And since decorating outdoor tables is not just a literal concept, both options can offer equally surprising results.
Whichever option you choose, the important thing is to decorate with care. If you opt for the table, you will have more objects to play with because the rigid support offers total stability that picnics make up for with its organic and spontaneous charm.
Location
On the beach, in the city or the country? Each landscape has its advantages and disadvantages: In the countryside, it is more recommended to use a table to cover your back against insects or small animals, tall grass, stones under the tablecloth and other inconveniences. Suppose you opt for the beach or city green spaces. In that case, picnics are more recommended, as sand is easily mouldable support on which to sit, but not a solid enough base to place a table or chairs. In the case of lawns, the permanent maintenance of parks and gardens ensures a comfortable and soft ground on the one where your tablecloth unfolds.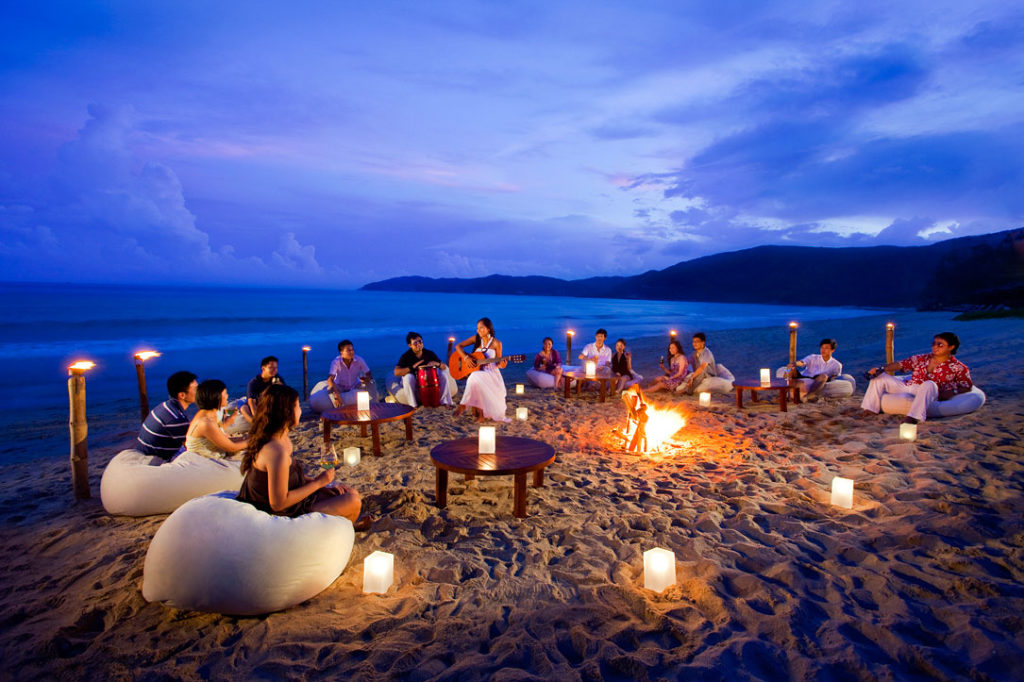 Transport
Depending on the support you have for your outdoor dining area, your decorative options will be conditioned by what you can carry. Remember that sometimes less is more: you can plan it in detail, but don't take more than you can comfortably cover.
If you're going by motorcycle, a small picnic will clearly be your only option. If you take a car with a good trunk, you can carry everything from folding tables and chairs to cushions and decorative items.
Environmental Decoration
The decoration of the environment is the common factor for all options, no matter which one you choose. Nature is like a blank canvas on which you place various decorative details of the environment that highlight either beautiful linens, a few colorful cushions, a garland, several candles, or a few light garlands, or by hanging them from a tree with a bow or on the sand or rocks.
Details On the Table
Centerpieces, small candles, or a basket with flowers and drinks can be simply decorative and functional options to create a magical atmosphere. Match the flowers' colors with the candle holders, napkins, glasses, or cutlery colors. Choose one or two rooms in which color reigns and balances the rest in neutral tones.
The Food
Taking care of the decoration of outdoor tables goes beyond small environmental details. It is also essential to take care of the aesthetics of the food we serve so that everything harmonizes. Choose small pieces that are chopped up for easy consumption and serve them on pretty colored plates or on a wooden or blackboard.
It's also essential to keep your drinks cool: be original, look for simple transportation options, and quickly replenish them. Carts or wheelbarrows are perfect for this.
Do you have any other tips when planning a party outdoor? Remember to leave them in the comments below.