The wedding day is a special occasion where we can celebrate the love we have for our newly bride/groom and spend quality time with family and friends. For that big event, you would want everything to reflect your personality as a couple, including your décor like your table centerpieces, which can break or make the whole mood you dream of achieving. While these come in endless colors and styles, the crucial rule to remember is keeping them low to allow your guests to socialize with other people in front of them. But what kind should you go for? Not sure? Breathe! We've got you covered. Below with listed a few creative ideas for gorgeous centerpieces for your wedding tables.
1. Colorful Flowers
Some bright blooms can do wonders for your tables. A bouquet of fresh flowers in tones of red and pink is a perfect example. Plus, you can add some berry and copper accents and a wooden base to finish the overall look. It will be contemporary and refreshing.
2. Stone Fruits
Why not going to the farmer's market and create a fruit-filled wedding with vibrant hues that will leave your guests in awe with your decorations? For instance, you can pair a bunch of stone fruits, like pears, with an assortment of contemporary blooms, including dried hydrangeas and pale pink and orange roses. The fruits will highlight the floral arrangement to create a seamless visual design.
3. Taper Candles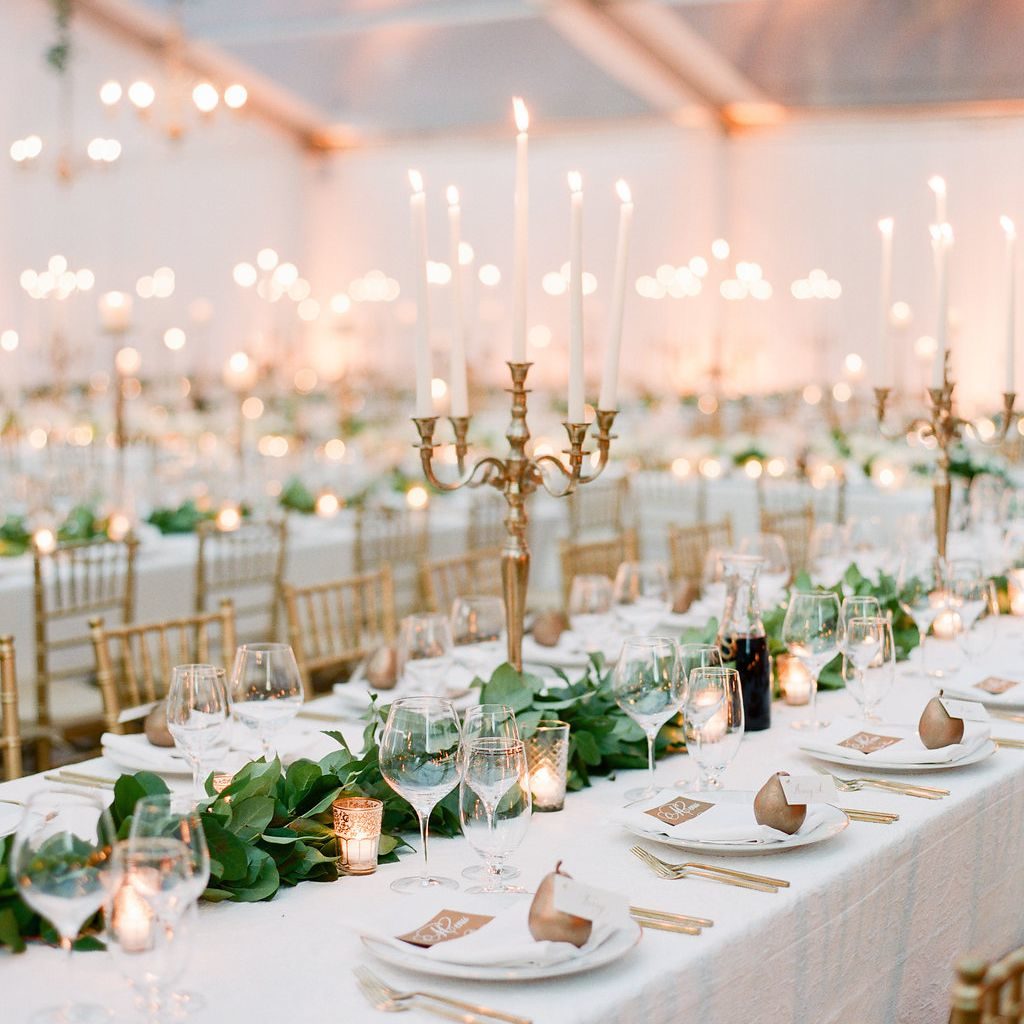 Whimsical and romantic, taper candles definitely bring a delightful glow to any styling decor. For an additional boost, opt for taper candles, set in simple copper or gold candleholders for a bright design.
4. Greenery Garlands
A garland of fresh flowers can add a luxurious touch to your table, depending on how you create it. One example will be a long but straightforward floral runner, with magnolia leaves, vine smilax, eucalyptus leaves, or Italian Ruscus.
5. Fabric Runners
The perfect display of simplicity is table runners that can elevate your table décor without working very hard. Silk runners are very in vogue, and they can be complemented with a minimalist floral arrangement or with white candles to embody a sleek and contemporary design style.
6. Huge Blooms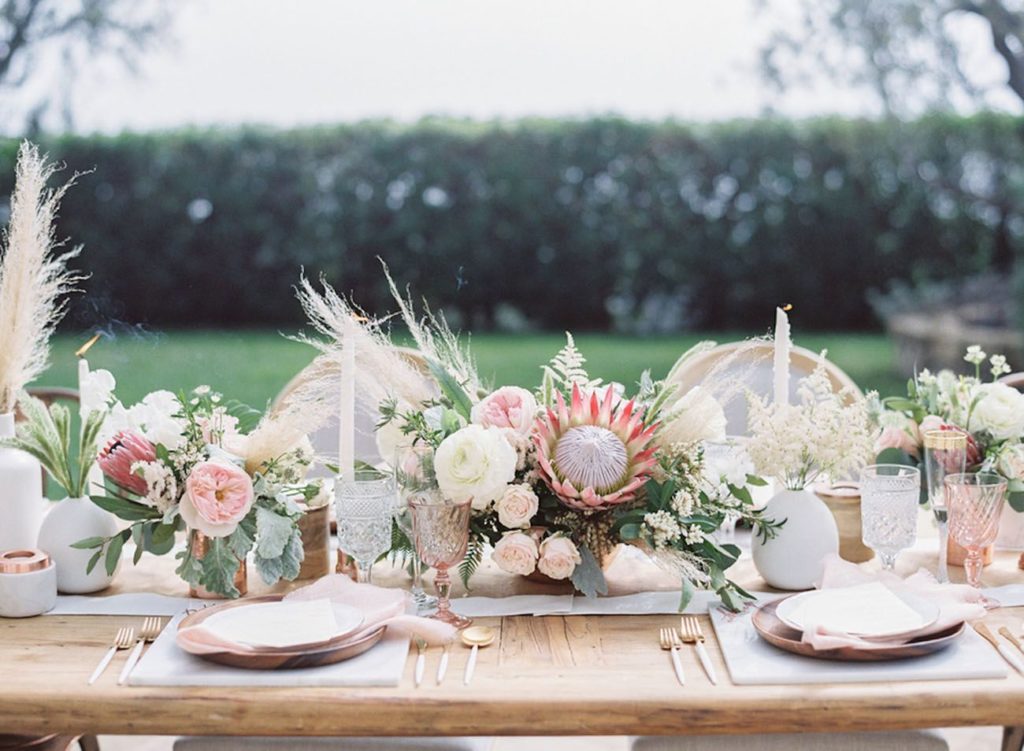 These centerpieces will be ideal if you are looking to decorate a desert or tropical themed wedding. We recommend big flowers like protea, also known as sugar bushes, that are striking yet simple. You won't need to pair them with other elements to create an impact. When sugarbushes are fully bloomed, they will undoubtedly leave a lasting impression.
7. Or Petite
We've said huge blooms? Alright, the opposite can also make a beautiful décor: a petite floral arrangement will be charming and suitable for most wedding style. To achieve this centerpiece, you can place a simple floral arrangement in a small and plain vase.
8. Lanterns
Lanterns are the ultimate choice if you want soft lighting. For example, for an outdoor reception, they will create a warm atmosphere for a beautiful wedding day.
9. Glass Cloches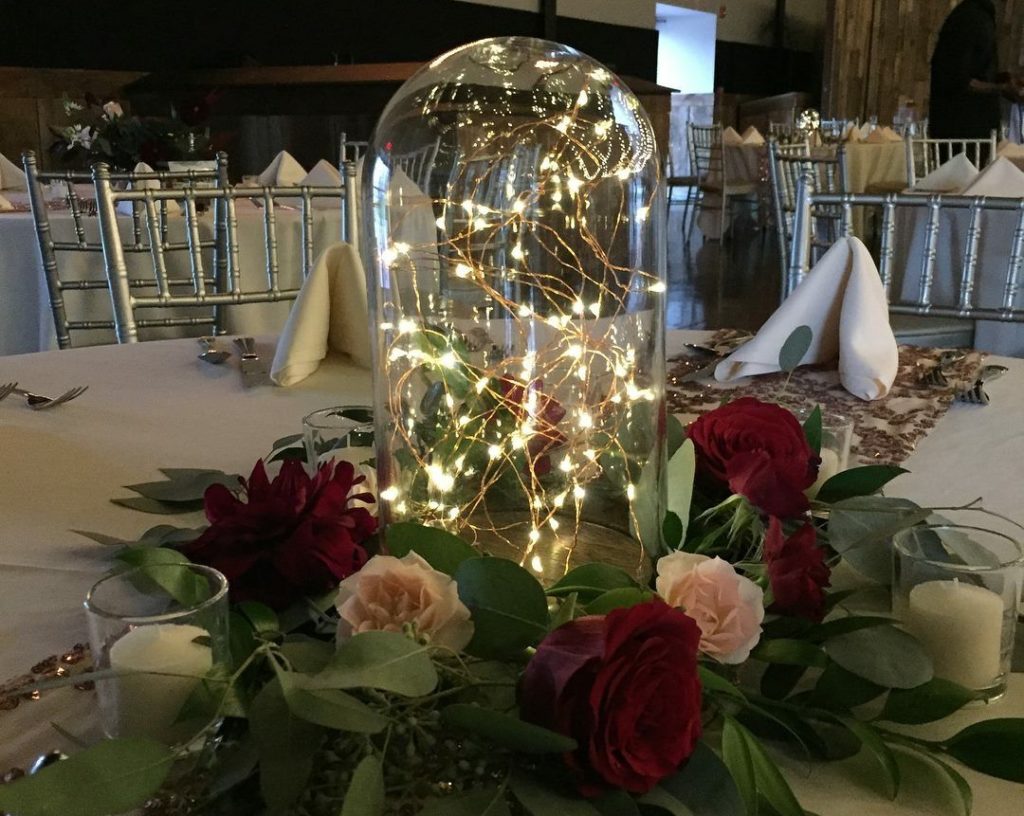 The glass cloche is a crucial trend for wedding centerpieces that is bound to remain, as both florists and brides like to present a mini display of unique flowers. If you don't get cloches but still aim for this romantic look full of textures, you can also recreate this style while mixing different sizes of glass jars with votive candles.
10. Fun Feathers
Are you looking to create a rustic décor? Think about adding some fun feathers to your centerpiece foliage with some yellow roses! Considering gold accents will also complete and elevate the look.
Do you have any exciting ideas of centerpieces for wedding tables? Remember to leave them in the comment section below.