Christmas is that time of the year when you're most happy to create decorations, ornaments, and DIY gifts together with the little ones. Besides being entertaining, these activities also help develop skills and creativity in children. So, why not sit down and help them create beautiful Christmas decorations? Here are some creative, imaginative, and fun DIY you can make with kids at home for Christmas!

1) Colored Paper and Cardboard Christmas Crafts
Colored paper and cardboard allow you to create an infinite number of Christmas crafts with children of all ages. It is necessary to help the little ones in the cutting phase, but paper is undoubtedly the ally for easy, fast, and amusing creations.
You can create little angels, snowmen, saints, trees, stars, and many other decorations with a Christmas theme. A very simple and beautiful DIY would be Christmas trees made of old wrapping paper. To create this, you have to cut out a triangle, fold it with the fan technique, and stick the tree on a wooden stick. Children can make many Christmas trees to put in jars and decorate the house. Another idea is to insert them in slices of Christmas cakes and gift boxes.
Using paper, you can also make pop-up decorations such as Santa hats, mustaches, beards, and glasses to stick on toothpicks. Your guests can also use these DIY crafts in the photobooth for stunning pictures with great effects! This will help in capturing the most magical moments in an original way!

2) Felt Fabric for Gifts and Decorations
Another perfect material to create Christmas crafts and decorations is undoubtedly felt fabric! This soft fabric lends itself to doing simple and effective works and ideal as a gift. Depending on the age of the little ones, more or less complex tasks can be done. For instance, with slightly older children, you can create small trees with the edge sewn in, while with the younger ones, it will be better to opt for glue.
The simplest Christmas crafts that children can do with felt are tree decorations such as reindeer, snowmen, trees, stars, etc. This can be obtained by cutting the shapes you desire directly from the fabric, then decorating them, perforating them, and hanging them up. You can also make super easy garlands which are suitable even for the little ones. You have to join many small squares of colored felt into a circle, glue them together, or use a needle and thread if children are a little older, and voila! You will have beautiful garlands to hang on the door!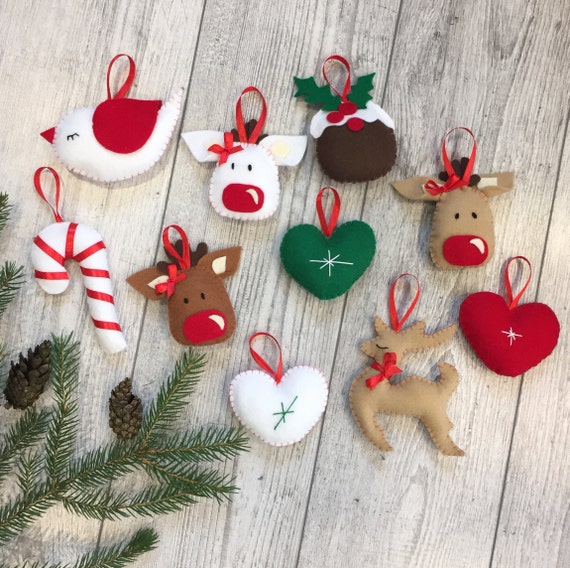 3) Pine Cone Decorations
Since ideas for Christmas crafts for kids are never enough, we also suggest using pine cones for some fantastic décor. In fact, pine cones are the perfect base for simple and fun creations, that are also suitable for younger children. For instance, you can use small pine cones with pompoms to create miniature trees hanging on doors, Christmas trees, etc. All you need are many little colored pompoms to stick on the pine cones' various ends, and that's it! You don't have pompoms? Even sequins can work perfectly.
The pine cones can also be spray painted and turned into anything you wish by simply adding small elements. For example, by gluing a wooden ball on top and paper wings on the back, you get a little angel. With the same technique, you can also make many other tiny characters.

4) Corks
The last Christmas crafts involve corks. During the vacations, many of them accumulate, so why not turn them into little Christmas characters? Those in sparkling wine, for example, can be painted and transformed into little reindeer or snowmen. Tempera paint, markers, and felt are enough. Paint the hat entirely and use markers to draw the eyes, nose, and buttons. Lastly, use hot glue to apply the horns and or hairs on your characters.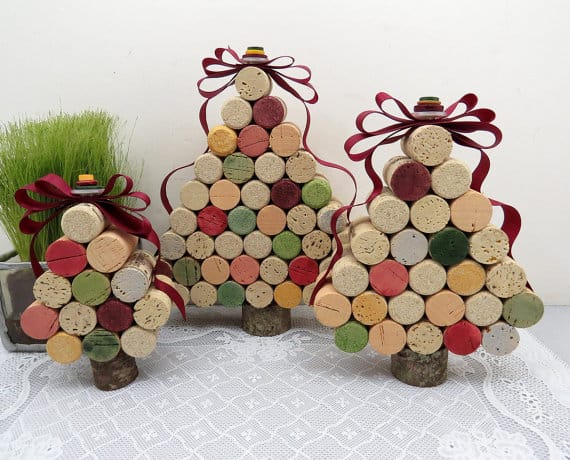 Have you tried any other Christmas crafts with kids? Please share it with us in the comments below!