Did you forget or didn't really have time to celebrate your mum on the traditional second Sunday of May? Well it's not to late! In some countries, Mother's Day is celebrated on the last Sunday of May, so you can still make her feel special on that day.
You don't have to do anything big but instead something that is special to honor one of the most important women in your life. And, you could do this with a bouquet of beautiful flowers, photos of happy moments or invest in some unique decorations or gifts that you can often do at home.
In this article, we list a few exciting ideas that could help! Enjoy the reading!
1 – A Personalized Decorative Letter
One of the easiest way to make your mother feel special is to give her a custom-made letter. You can make decorative cardboard letters at home, focusing on the word "Mother". Then decorate the inside of each letter with colorful flowers (real or fake).
2 – A Flowery Name Card
Does your mum enjoy flowers? Then this decoration would be perfect if you are throwing a small lunch party. When it comes time to mark your mother's place at the table, invest in a lovely decoration to surprise her. Here, we would suggest that you combine a pink carnation, or any of her favorite flowers, with her name card.
3 – Cardboard Banner with Flowers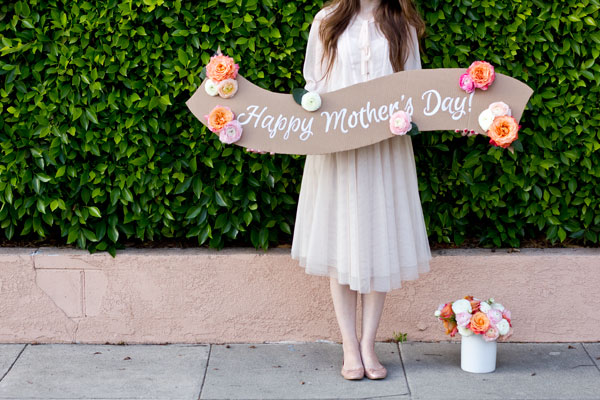 For this decoration, we keep the flower momentum going. You can get a piece of cardboard and use it to create a fabulous banner where you'll write "Happy Mother's Day". The main idea here, is to use fresh flowers to enhance the decoration piece.
4 – Flower Garland on the Chair
Mother's day calls for a cheerful, delicate, and romantic decoration. So it would be great putting together a garland with fresh flowers and string to decorate the back of your mum's chair.
5 – Golden Flowers
There are some items that can not be missing in the decoration, and flowers are one of them. To make them look different and charming, a creative way to go is to paint the tips of the petals with gold paint or use stickers with a gold appearance. The arrangement will look super chic, especially if it is assembled with roses and carnations.
6 – Brunch with Flowers Theme
Another original way to celebrate with flowers is to do a brunch around this theme. This meal, which mixes elements of breakfast with lunch, is becoming popular throughout the world. You can organize a special brunch on Mother's Day Sunday and use flowers to decorate the table. The more colorful the scenery, the better.
5 – A Unique Topper
A thoughtful way of making your mum think special is to serve her breakfast in bed. Of course, we recommend that you carefully decorate the tray. A tip is to cook pancakes and place a personalized topper on top.
6 – Decorated Trellis

Visit a household goods store and buy a simple white trellis. Then use it as a framework for writing the word "Mother" with flowers or any other special message. This project would make a perfect backdrop for a small Mother's Day party.
7 – Balloon Arch
Balloons are not limited to children's party decorations. To make Mother's Day brunch even more unforgettable, invest in a balloon decoration. Bet on the trend of deconstructed archs, which uses balloons of different sizes.
You now have some fantastic ideas to celebrate your mum as she deserves it. If you want more tips, come check out the second part of this article where will list you some more creative decorations and gifts that you can make yourself.