Proper birthday party lighting helps create the perfect atmosphere at any party, especially birthday parties. Very often, birthday parties last longer than expected, and by the time you realize it, the night is already surrounding you with its black jet veil. This is why good lighting that fits with the décor while allowing you and your guest to enjoy the night is essential. Even when the event is held indoors, proper lighting helps create the party's perfect atmosphere.

What Is Essential to Consider?
When you play with lighting as a decorative element to create the desired atmosphere, you should firstly consider some vital points:

1) Interior / Exterior Factors
Inside you may use almost any kind of lighting. The only limit is the available space. However, if you also want outdoor lighting, you should consider those that are suitable for outdoor use as well.
2)Electrical and Fire Risks
In case of using an electrical installation connected to the mains, the installation must be done and supervised by a professional who can assure that the circuit is well insulated. If you're using incandescent or halogen lamps, make sure that they are not close to flammable materials since they generate a lot of heat.

3) Electrical Installation
If you do not want battery lighting, it will be necessary to install cables from an electrical outlet where you want the point of light to be. However, this may not be aesthetically pleasing with all the wires and cables visible, unless it is a party of electricians, which is quite unlikely!

4) Energy Consumption
If you're one of those people whose electricity bills bring them headlong at the end of the month, this is another factor to be taken into account. It is convenient to use lighting that provides the best performance for any case.

5) Types of Lighting
The type of lighting chosen is what will help you create the desired setting and change the party's atmosphere at any time. For instance, you can create a relaxing atmosphere for an all-afternoon party with tissue paper lanterns or origami lamps. For an evening birthday party, change the lighting type to create a dancing atmosphere, with a few LED lights to help you achieve this effect.

Which Type of Lighting Is Most Recommended to Organize a Birthday Party?
It is better to use LED lighting, which is battery operated. LED light hardly generates heat, and its power consumption is minimal with superior lighting. Using LED battery light, you will also avoid any electrical installation and all the risks this entails. This type of lighting fits any space, and any kind of lamp that you can think of. It is ideal for tissue paper lanterns and even for balloon lamps.
The least advisable is to light with candles. Without a doubt, candles create calm and relaxing environments. But they bring a significant risk of fire and burns. Decorating with lighted candles is a sure success, but the risk is also always present: a trip, a fall, a carelessness… and the party will be spoiled. If you need to have lighted candles at any party, someone has to supervise them to ensure the party ends without unpleasant surprises.
When to Decorate With Candles?
It is advisable to avoid candles in general, especially if there are children at the party, except, of course, the candles present on the birthday cake.
At adult parties, where we gather with friends around a large table, we can decorate the table's center or even the environment with candles. Candles can also be replaced by other LED alternatives such as tissue paper lanterns or even LED candles. Safety is the most important!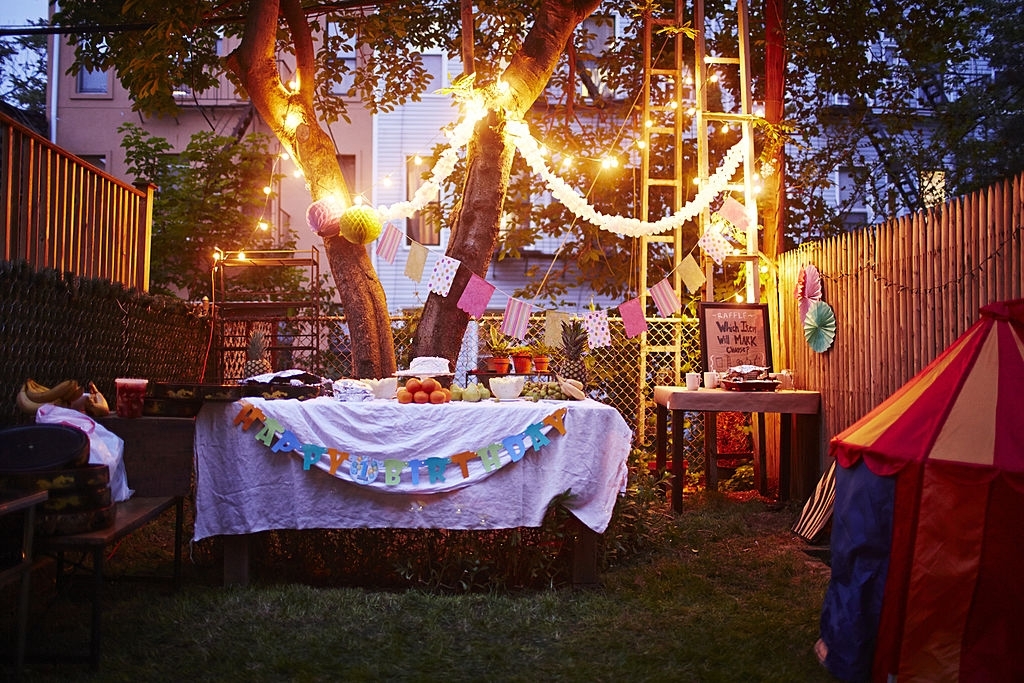 What are the other lighting tips you know about? Please share it with us in the comments below!