Origami is a technique for creating different shapes with paper, with which it is possible to make different animals, flowers, and many other objects to innovate in the decoration of parties. You can create the pieces in an easy and fun way.
How about getting your hands dirty and creating different origami for your upcoming event? In this article, we discover more on the different types of origami that we can make and how to use them in decorations. 
But first, let's see where this amazing technique comes from.
Meaning of Origami
Origami is a Japanese word that means folding paper. It is an art of ancient origin that appeared in the imperial court of Japan as a hobby. This technique aims to form drawings with folds on paper without using scissors. For the Japanese, the act of creating paper folds symbolizes the transformation of life, and each figure represented has different meanings. For example, the tsuru/Orizuru or origami crane symbolizes peace, happiness, good luck, and health.
Types of Origami
There are several forms of flowers, animals, and other objects that can be made with paper only. Below, we've gathered a list of different types of origami.
Origami Tsuru
The origami tsuru is one of the most traditional and famous formats of this art. The folds are very simple and require a little attention, but this model can be easily made by a beginner. You can use any type and size of paper, as long as it is a square format.
Origami Bird
There are several variations and shapes of birds that you can make with paper. You create a bird origami, which can be used to decorate parties while using the colors you prefer to make yours.
Origami Dragon
Among so many possibilities, you can also make a dragon origami. Most cases are creations of intermediate to advanced level, with many folds and that may require a little patience and practice to reach the desired result.
Origami Flower
Sakura or cherry blossom is a national symbol in Japan. It also symbolizes love, renewal and hope. You can create this delicate origami flower with different colors and use creativity to decorate vases, compose arrangements and make bouquets.
Origami Butterfly
Another very popular model is the butterfly, which can be very easy and simple to make. A lovely folding to decorate your daughter's party while making garlands out of them.
Hummingbird Origami
You can also make a hummingbird shape, a simple and delicate fold that carries a meaning of good luck.
Origami Heart
An origami heart is an easy and special model for decorating objects, decorating weddings, and or any party. You can create different sizes and create different compositions full of love and care.
Frog Origami
Frog origami can be a playful and attractive format to do with children. With only paper, it is possible to make a jumping frog that is very fun to play with the little ones. In addition, the art of paper folding encourages imagination, stimulates concentration and is a great practice to do at any age. The origami technique can be a fun and relaxing activity, whether for adults or children. There are no limits to transforming a sheet of paper into another object and you can create fantastic shapes to decorate your event.
Origami Inspirations in Decoration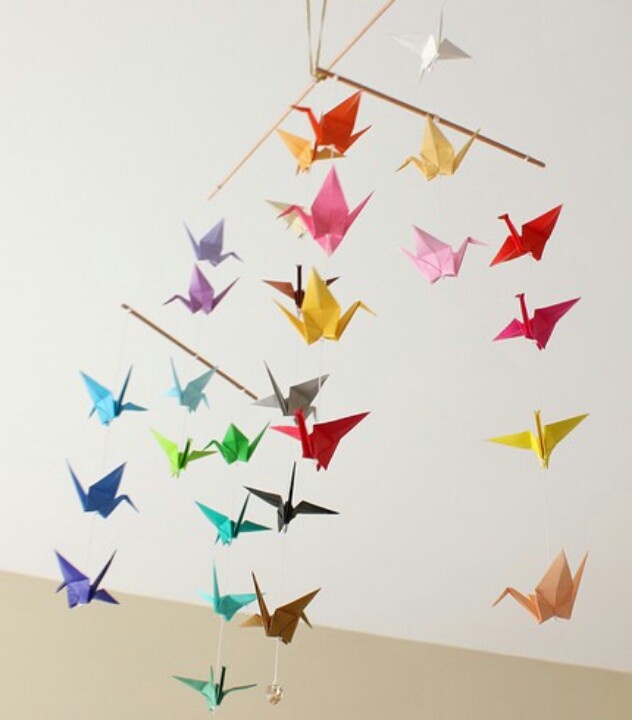 Origami pieces can be transformed into paintings, arrangements or embellishments. With them, it is possible to create different shapes to decorate parties, weddings, and many other events.
Hanging mobiles are creative options for making origami
You can create the mobile with just one type of folding
Or mix different shapes of animals for a playful effect
It is also possible to make a geometric vase or a bouquet of folded flowers
Assemble a beautiful Christmas wreath for your home door
Embellish birthday cake tops
Hang them in children's party
With birds, it is possible to make a hanging ornament
Build a colorful tree
Even the Christmas tree can be made with paper
Turn your origami into creative light fixtures
Origami makes any corner more charming
Create a backdrop with origami
Have you been decorating your parties with origami? We want to know how they turned out; don't forget to leave a comment below.