Summary
    – Step 1: Choose a theme and colours
    – Step 2: Choose your tablecloth
    – Step 3: Set the table
    – Step 4: Set the scene with napkins
    – Step 5: Create a Centerpiece
    – Step 6: Think of individual decorations
    – Step 7: Don't forget the candles
    – Step 8: Make Your Party Table Sparkle
    – Step 9: Don't Overload Your Table!
If you're entertaining for the holidays, create a warm, fairy-tale or sleek setting on your table. Tablecloths, napkins, plates, glasses, cutlery and centrepieces lend themselves to multiple interpretations.
Here are a few ideas for successful Christmas or New Year's Eve table decorations to suit your tastes.
1. Choose a theme and colours
Before designing your Christmas or New Year's table, choose a theme. Ideas will come to you more quickly, and the whole will be harmonious.
Here are some possible themes:
    – Traditional Christmas:
        ◦ Table embellished with fir branches, stars and natural elements (pine cones, cinnamon sticks…).
        ◦ Colors: red and green, green and gold, or red and gold.
    – Enchanted Nature:
        ◦ Natural elements galore (fir branches, pine cones, fresh flowers, moss, acorns…).
        ◦ Colours: beige, brown, gold, or soft green and white.
    – Starry night: midnight blue tablecloth and decoration all in glittering stars, gold or silver.
    – Winter white:
        ◦ Plates, cups and photophores that play with transparencies.
        ◦ Colors: decor all in white and silver with pearly touches.
    – Contemporary New Year's Eve:
        ◦ Table with refined decoration, square plates, sophisticated flowers (orchids, anthuriums…).
        ◦ Colors: charcoal gray, light gray, white, plum, fuchsia, black…
    – Baroque Reveillon:
        ◦ Sumptuous table, topped with crimson red.
        ◦ High candlesticks, golden presentation plates, red roses and cut crystal.
    – Gipsy Eve:
        ◦ Colorful layered tablecloths, decorations galore, scrolls, sequins…
        ◦ Colors: gold, fuchsia, orange, plum.
2. Choose your tablecloth
    – Choose a tablecloth in a colour that matches your theme. You can replace it with yardage of fancy gold, lamé, star printed fabric…
    – If needed, personalize your tablecloth with stars cut out of paper (gold, silver, red…) and fixed with double-sided tape.
    – For a great effect, superimpose two tablecloths: one falling to the ground (a sheet will do), the other shorter. Or, place placemats or a table runner in a colour that contrasts with the tablecloth below.
Note: Instead of placing a table runner along the length on a rectangular table, innovate by placing several runners along the width.
3. Set the table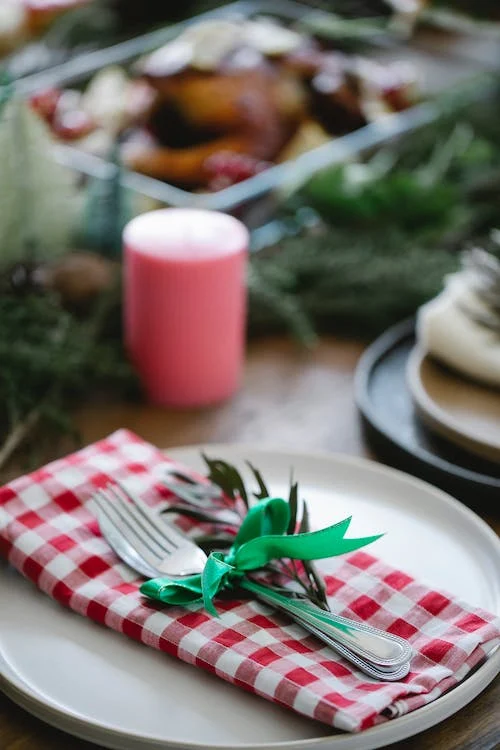 To set the table, you can follow the traditional rules of good manners and shake up the codes to create more festive and personal presentations.
The plates
Here are some ideas for setting the plates:
    – Place at least two plates on top of each other and wrap them like a gift package.
    – Layer two different plates, such as a large white or coloured plate with a small clear plate on top.
    – Customize simple white plates by placing tree branches and a bauble on top.
    – For an extra touch of luxury, use large presentation plates to place under the dinner plate.
Note: If you don't have presentation plates, you can find some affordable in gold cardboard or coloured plastic.
Cutlery
Improvise an unusual presentation of cutlery, for example:
    – Place all the cutlery on the left side of the plate tied together with a ribbon.
    – Group the cutlery in a napkin folded into a cone and tied with a pretty ribbon.
    – Place a square-folded napkin on the plate and place the cutlery horizontally on the napkin.
The glasses
    – Bring out your most precious glasses.
    – Feel free to customize your stemware for the occasion, for example, with:
        ◦ a small bauble tied to the top of the stem with a thin ribbon;
        ◦ or a star surrounding the base of the stem (cut the star out of paper and make a slit to pass the stem of the glass through).
4. Set the scene with napkins
Place the napkins either on the plates or next to them and set the scene for the occasion:
    – Wrap the napkin around itself and wrap it with a beautifully tied ribbon: choose a wide ribbon that will stand on its own or a thin ribbon under which you slip a sprig of holly, a branch of fir, a bundle of cinnamon sticks, etc.
    – Fold the napkin into a square, roll two ends toward the center and place a flat Christmas decoration, such as a flower or star, on top.
    – Form the napkin into a roll and tie the two ends with a thin ribbon.
    – Fold the napkin into a square and form a large bow by tying two opposite sides of the square into a ribbon.
Note: you can also fold the napkin into a square and place a decorative element on top (pine cone, Christmas shortbread, star, tree decoration…).
5. Create a centrepiece
If your table is large enough, compose a centrepiece, as long as you avoid compositions that are too high and would embarrass the guests.
Some ideas:
    – A tray covered with natural moss, in which you will put lit candles.
    – A natural wooden log surrounded by fir branches, red berries and pine cones.
    – A composition of gold-domed shells, the largest filled with wax and fitted with a wick to turn them into candles.
    – A bed of fir branches decorated with pine cones, red apples, large white candles, candle holders, small bouquets of hellebores, etc.
    – Red apples or baubles are arranged in a line, alternating with candle holders or large candles.
6. Think of individual decorations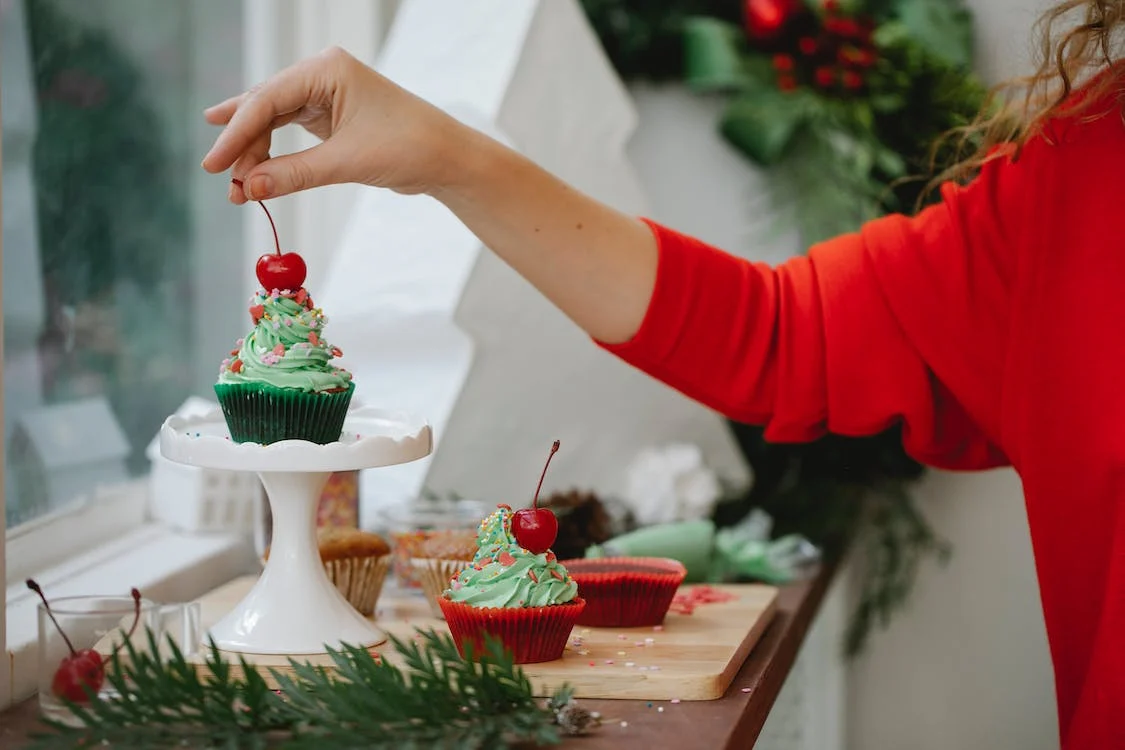 To the right of the glasses, place a unique decoration for each guest, for example:
    – A cup of hazelnuts, some of them sprayed with gold.
    – A bowl of water with a floating candle.
    – A bowl of green wheat (wheat you will have sprouted on wet cotton a week in advance).
    – A large red apple: glue a paper star on top, lightly decorate with a little artificial snow and remove the star for a more positive effect.
7. Don't forget the candles
Candles are essential to bringing a touch of magic to your Christmas or New Year's table. They come in a variety of ways:
    – Simple tealights surrounded by masking tape.
    – Large candles customized with ribbon, twigs, or natural moss held together with baker's twine.
    – Candle cake.
    – White candles stuck in red apples.
    – Photophores: for a white Christmas, pour powdered sugar into the bottom of a clear glass jar, sprinkle the surface with silver beads and place a white candle on top.
8. Make your festive table sparkle
To give your table the finishing touch, scatter:
    – golden stars;
    – glass beads;
    – glitter;
    – small glittering trees…
9. Don't overload your table!
To keep your festive table harmonious, don't overload it with decorations:
    – If you decorate the plates, do not decorate the glasses or napkins.
    – If you are creating a centrepiece, be sober in decorating the plates, glasses, cutlery, etc.