Looking for what to put on the cake instead of candles? We will show you different alternatives, simple and cheap. Find in this blog some of the options to decorate a cake, and other original ideas.
Nowadays birthday candles are a bit outdated, if you are looking for alternatives to decorate a cake you are in the right blog, we will teach you how to do it step by step. In recent years, different options more original and equally cheap have become fashionable, with scenic and individual confectionery accessories.
We will not make you wait any longer, let's start with the ideas!
Ideas on What Can Replace Candles on the Cake
The decoration of a cake is essential to celebrate a birthday party, it is what will make your cake unique and differentiate it from others, so it is necessary to think carefully about how to prepare it.
We will teach you how to decorate a cake for your party without candles, no matter what type of party you are having, whether it is a wedding, birthday, baby shower, etc. There are all kinds of ideas for every situation, and very simple. The possibilities are endless!
What Can
You
Use Instead of Candles?
We all know that the most important thing in a cake is its taste, but its decoration is just as relevant, because we all want our party cake pictures to be perfect.
Use a Cake Topper as an Alternative Decoration to Candles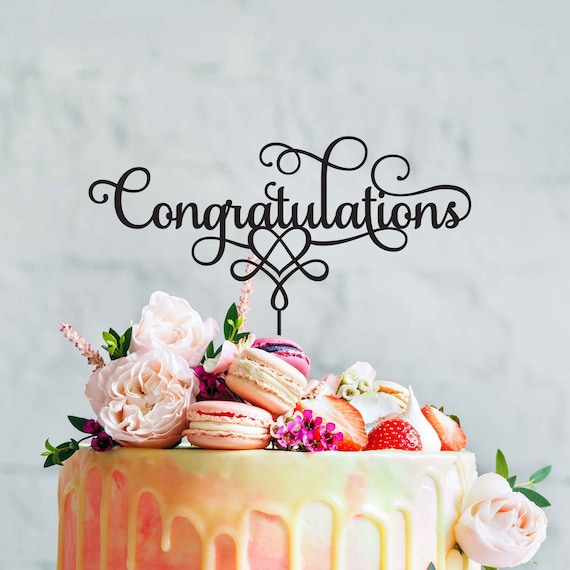 As an idea to decorate a cake without candles, we present the cake toppers, there are many and of all types, with words, numbers, pictures, etc..
You can choose the decorations that best suit your taste. The most popular are the toppers with the words "Happy Birthday" which are the most common for birthday parties, although you also have more generic options for more situations such as: "CONGRATULATIONS". You can use them at weddings, graduations, baby showers, etc.
If you're looking for a specific phrase or word that you can't find anywhere, you can get your hands on it and with a piece of cardboard, a pencil, scissors, and step by step, you can make your own personalized topper. All you have to do is write the design and cut it out. And to place it on the cake, you place two sticks on each end of the phrase so it will hold well and that's it. It's very simple and not expensive!
You can also find the smaller version among the cupcake accessories, toppers with writing and designs to put the cupcakes.
Figurines to Bring More Life to Your Cake
We continue with the figurines to decorate the cakes, if you want to prepare your cake with a little more life you can decide to use 3D decoration. This is a very good option, because they are very easy to find and decorate the cake in a unique way.
This type of decoration is more used at themed parties, for example at parties dedicated to children's programs. But don't close the doors!
If you look, you will eventually find the perfect figurine for your cake, and if not… you can always get inspired, and do some DIY.
For example; For a wedding you can put figurines of the bride and groom on the altar, for a graduation you can place a mortarboard or diploma, for any theme there is a figurine that will be perfect.
There you are! You now have some interesting ideas on how to decorate your cake without candles. Do you want more options? Come back later to check the second part of our article – we have some further exciting ideas that you will love.
Until then, what are your thoughts on the alternatives above? Let us know in the comments below.