Have you heard of Maya the Bee? This famous animated series is loved by many children and maybe yours too. And if you're looking for an exciting theme for your little one's birthday party, why not think about the beloved bee? Short on inspiration? No problem, we're here to help.
In this article, we've put together a list of ideas to help you throw a great bee birthday party for your child.
Decorations
If you want to celebrate the birthday of a bee, it is a party with simple decoration, use typical balloons, make combinations between black and yellow or you can also make a large arch with yellow polka dot balloons with black dots. On the other hand, you can make hexagons with cardboard and form a honeycomb. To be original, you can buy yellow lanterns and stick plastic bees on them, it will be very nice and you can put them wherever you want.
You can't miss the typical cheap paper garlands and streamer bags, which can be hung from the ceiling and on which you can also glue paper bees; you will have bees flying all over the party.
Among all the online party decorations you can find, some of them can be your best allies. Indeed, especially when you don't have time to do it yourself, the possibility of buying confetti or fun party favor bags for your guests makes everything easier.
Main Table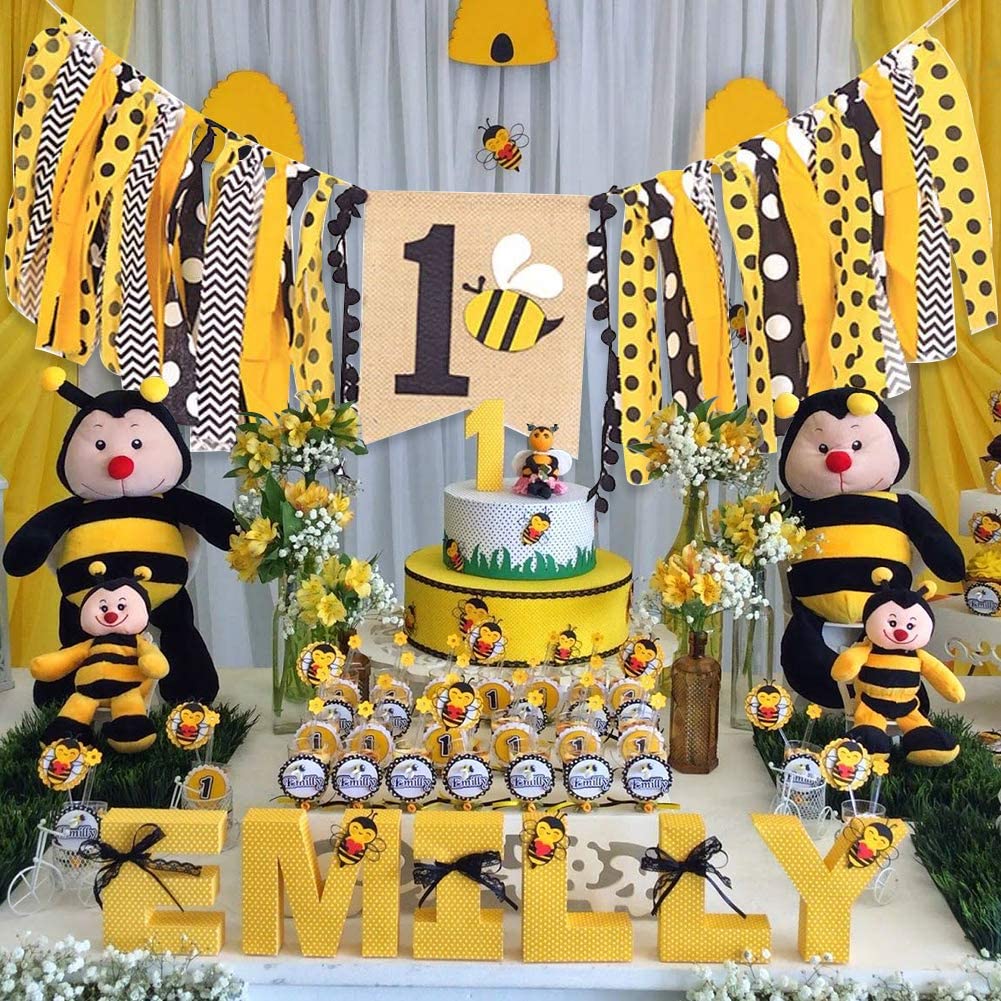 The table will also be simple, but small details such as disposable cutlery, disposable straws or napkins decorated with the main theme will make the birthday party stand out.
Although there are a lot of yellow and black details, all the dishes and plastic containers, you can replace them with glass to make the food more attractive. Around the table you will also need to decorate, try to distribute the decorations well and include a table napkin that covers everything well.
A Bee Cake
We consider every detail you may be thinking about when looking for how to do a bee themed birthday party, that's why we come up with the best ideas even in the cake decor. You won't find a better cake for a bee themed party, original, beautiful and cheap. You too will end up thinking the same thing.
Let's start making this fabulous cake!
For the cake and the filling, get the flavor you like the most and the icing to cover the cake also in a striking color. Once you have decided the above, you can start decorating the cake by mounting it on a very nice cake stand.
First of all, to make the honeycomb, you will need a strip of bubble wrap, the same width as our cake, then we apply melted white chocolate to it, wait a few minutes for it to dry, remove it and put it on the cake very carefully.
Next, to make the bees, you'll need straight cake flags, yellow and black sweet fondant and cake extra pieces. With the cake extras, make a ball and cover it with fondant until it is shaped like a bee. Glue them (you can do so with melted sugar) into the topper and then into the cake.
Snacks
The ideal time for a birthday party like this is snack time (tea time), so making some cheese and olive bees is a great idea. You will need 2 types of cheese, black olives and mayonnaise. All you will need to do is cut the olive into three parts and alternate them with cheese circles, glue them with a little mayonnaise and hold them with toothpicks.
Another great idea is the candy skewers. These skewers are very easy to make, just take a wooden stick and put alternating candy marshmallows on it, some black and some yellow. Make as many as you like!
You now have wonderful ideas to throw your child an amazing bee-themed party. What theme did you do before? And how did it went? Share your experience with us in the