Prepare a surprising and entertaining children's party for children. The theme that we propose is to have a circus party where laughter, magic, and surprises are guaranteed. Lacking of some inspiration? No worries! In this article, we've gathered some ideas that will make your circus party a success. Keep reading!
Circus Invitations
Start your party by preparing the funniest invitations. You can make them yourself with a white cardboard that must be cut out in the shape of a circus tent. Before making all the cuts, check that the two side blades are large enough to fold towards the center. By opening the invitation, they will be able to discover all the details of your party. Once you have the shape, it only remains to decorate it in white and red tones and write all the data so that no one misses that special party.
Buy Your Ticket
Receive your party guests in an original way, in the booth where access tickets are sold. The booth can also serve as a photobooth for the children to take some souvenir images of this circus party.
To make it, use a vertical box. You just have to decorate it with paint strips or red and white duct tape. Do not forget to make some holes that serve as a window.
Festive Decorations
A fun way to decorate your sweet table is by doing it with colorful fabrics. You can hang them from a lamp, a frame, or a round ring. Another way to decorate your party is with white and red tablecloths and fun colored balloons.
Colored Pompoms
Try decorating the glasses or bottles of water, juices, or soft drinks that you will give to the children with colored pompoms. This is how the colorful clown costumes will appear. You can fix them with hot glue or double-sided tape.
Strong Sweets
Kids are sure to love the idea of chocolate-dipped sugar clouds. You need two colored cardboard straws. Place a chocolate-dipped marshmallow at each end. Finish the decoration by weighing each weight with edible paints.
Clown Faces
An alternative to making delicious pop cakes is to dress them up as if they were clowns. You can bathe them in white chocolate and draw the rest of their faces with markers and edible paints. You can add fun hats made with colored fondant. Another alternative is to draw their faces on purchased cookies that you can put a white fondant coating on and create the face on top of it.
Peanuts for Dumbo
Put some peanuts or nuts on your table. To set this snack in the circus, they place figures of animals such as elephants or monkeys next to them. It will be a fun addition to your sweet table.
Dunk in the Clown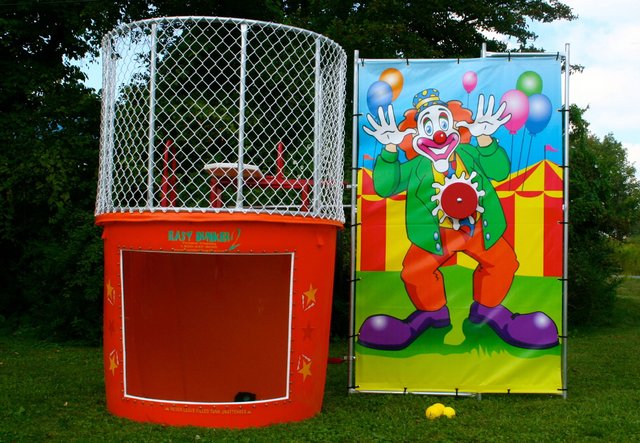 In a circus party you cannot miss some of the traditional games that are seen at a fair. One of them is to dunk the balls, in this case, in the face of a clown in which we will have cut out different circles in which the children will have to dunk. The higher the difficulty, the higher the score. The children will have three chances, and the one with the most points will win a prize as if they were in a raffle.
Knock Down the Ball
Another game that you can propose to children is this. It is about knocking down some plastic balls that we will have placed on some tees. Click on a piece of foam rubber and let the children test their aim with some toy guns.
Catch the Duck
Another alternative is to fish the duck. Place rubber ducks in a bowl and have the children, with a stick and a string of yarn or wool, try to catch them in the shortest time possible.
Remember to share with us in the comments below how your party went.