Imagine escaping the hustle and bustle of the city and immersing yourself in the tranquil serenity of a forest. A mesmerizing environment is created by the rustling leaves, the whispering air, and the lovely harmonies of songbirds. You've chosen to organize a one-of-a-kind party in this natural refuge, embracing the appeal of the great outdoors. Planning and arranging a forest party provides an exceptional chance to interact with nature, commemorate key occasions, and create lifelong memories. In this post, we'll go over the elements of throwing an outstanding forest party, from picking the perfect venue to creating a nature-inspired environment and organizing games that will keep your guests entertained.
Choosing the Perfect Forest Location
Choosing the right forest site is the first step in preparing a forest party. Consider visiting nearby parks, wildlife reserves, or private forests that provide meeting space. Look for a forest area with plenty of greenery, well-kept pathways, and appropriate amenities such as picnic sites and restrooms. To guarantee a seamless and trouble-free event, get all necessary licenses or approvals from appropriate authorities.
Choosing a Nature-Inspired Theme
To create an immersive experience, choose a nature-inspired theme that corresponds to the forest backdrop. Use earthy tones, rustic features, and natural materials in your design. To add to the mood, choose hardwood furniture, green garlands, and vivid floral displays. To reduce the environmental effect of throwaway products, consider eco-friendly alternatives such as biodegradable plates and cutlery.
Creating a Scrumptious Forest Meal
Create a meal that matches the outside surroundings while also providing your visitors with a great culinary experience. Incorporate fresh, locally sourced products, and consider outdoor cooking choices like grilling stations or bonfire cooking. To accommodate varied dietary choices, provide a range of foods, including vegetarian and vegan alternatives. Don't forget to add cool beverages and scrumptious sweets that highlight the season's tastes.
Engaging Forest Activities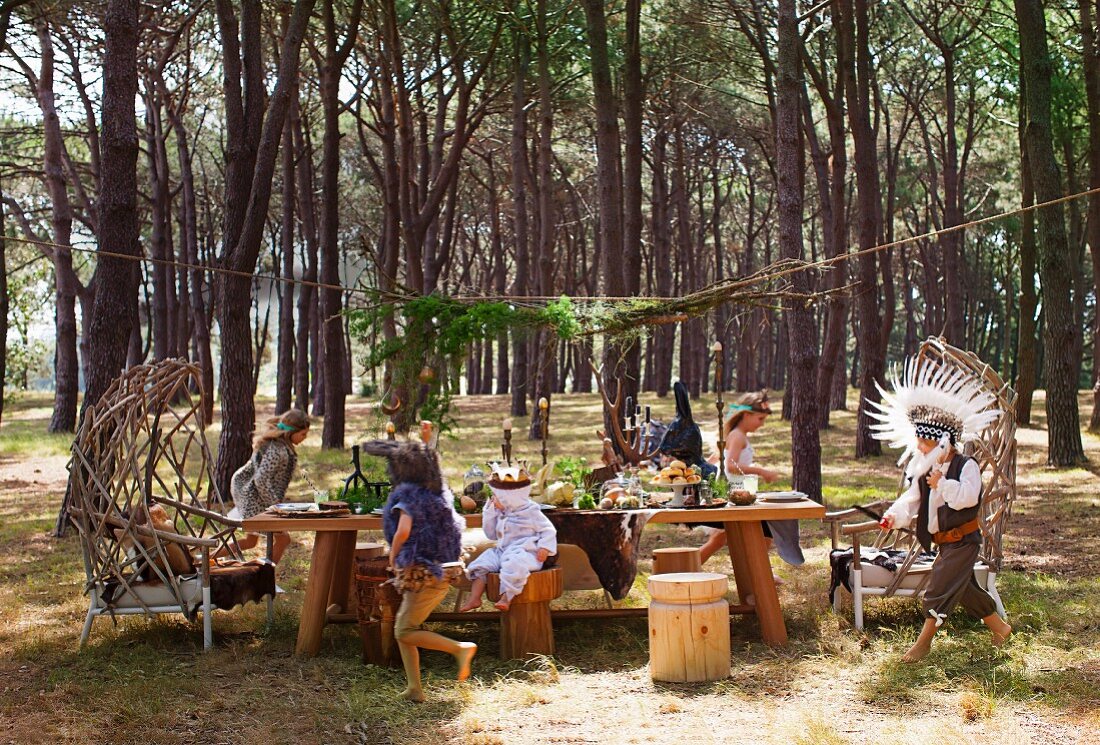 Entertain your guests with a variety of forest-inspired activities that encourage discovery and connection with nature. You need to plan guided nature walks or excursions where participants may learn about the forest's vegetation and animals. Organize team-building activities such as treasure hunts or nature-themed crafts to encourage engagement and a feeling of adventure. Consider including live music or acoustic performances to add to the ambiance and live entertainment.
Ensure Comfort and Safety
When planning your forest party, it's critical to prioritize your guests' comfort and safety. To guarantee a good experience, provide plenty of chairs, shade, and bug repellents. Inform guests that they should dress appropriately for the outdoor location, recommending comfortable clothing and sturdy footwear. Provide dedicated containers for recycling and rubbish disposal to reduce fire dangers and guarantee effective waste management.
Communicating Logistics and instructions
Provide clear instructions to the woodland area to enable your guests' easy travel. Include landmarks, GPS coordinates, and any other pertinent information to assist guests in finding their way. Communicate critical logistical facts such as parking availability, meeting spots, and any forest-specific requirements. Encourage carpooling or other modes of transportation to reduce the event's environmental effects.
Embracing Sustainability
Incorporating sustainable techniques is an important feature of preparing a forest party. Use recyclable or biodegradable decorations and tableware to save waste. Encourage visitors to carpool or choose other modes of transportation. Consider engaging in environmental efforts or funding reforestation projects to offset the event's carbon footprint.
Capturing and Preserving Memories
A woodland party provides a beautiful setting for recording and preserving precious moments. Hire a professional photographer or put up picture booths in the middle of the natural beauty. Encourage visitors to use a unique event hashtag to take photographs and share their experiences on social media networks. Allow guests to take a bit of the forest celebration home with them by providing personalized mementos or eco-friendly party gifts that go with the environment theme.