For summer gatherings with friends and family, the pool is an excellent choice. After all, who doesn't like to sunbathe while cooling off and playing games? How about throwing a party with light refreshments and inviting the people you love to swim? Swimming pools are ideal for long hot days. Have a look at the recommendations we bring you below so you can organize yours!
1) Arrange a Feast
No pool party is complete without a barbecue and colorful cocktails. Think popular drinks like a spritz, sangria, or infused water with lemon and mint that you can pour into clever dispensers. It also means you don't have to worry about your guests. They'll serve themselves! Are you still looking for a special dessert? Try oven-baked camembert or provide delicious marshmallow skewers for the barbecue. People are guaranteed to love them!
2) Inflatable Fun
Also continuing this year is the trend of inflatable items for your pool. Choose an original item and Instagram variations like the unicorn, watermelon island, rainbow lounger! Surprise then with Moby Dick, a giant whale, or a Monstera sheet mattress. Don't forget the little ones; they too are entitled to their own incredible inflatables.
3) Provide Games
The pool is excellent, but after a few hours, the fun can be gone! A pool party is a perfect opportunity to play petanque or Finnish skittles or just make up a fun board game. Fun guaranteed! Except for those who can't bear to lose, of course. You can put them in the pool afterward!
4) Think Green
Don't you plan to bring out your best dishes for the occasion? Relax and opt for recyclable items like cups, plates, and straws. Avoid plastic and think eco-friendly. After all, today, there is a wide range of brands responding to different themes, even for the perfect summer evening.
5) Outdoor Furniture to Relax With
A sun lounger, a hammock, soft beach towels, when a pool party rhymes with fun, guests should be able to relax in dignity. Be sure to provide plenty of chairs or a comfortable sofa. Not enough furniture? Beach towels are great for young and old or get boho outdoor poufs or blankets adorned with an array of beautiful cushions.
6) Low Light at Dusk
When the sun goes down, you can take a moment to decorate your tables, pool edge, and garden with beautiful lights. Use candles, lanterns, and glowing garlands to create a magical atmosphere in the garden. It is essential to end the evening in style and fun!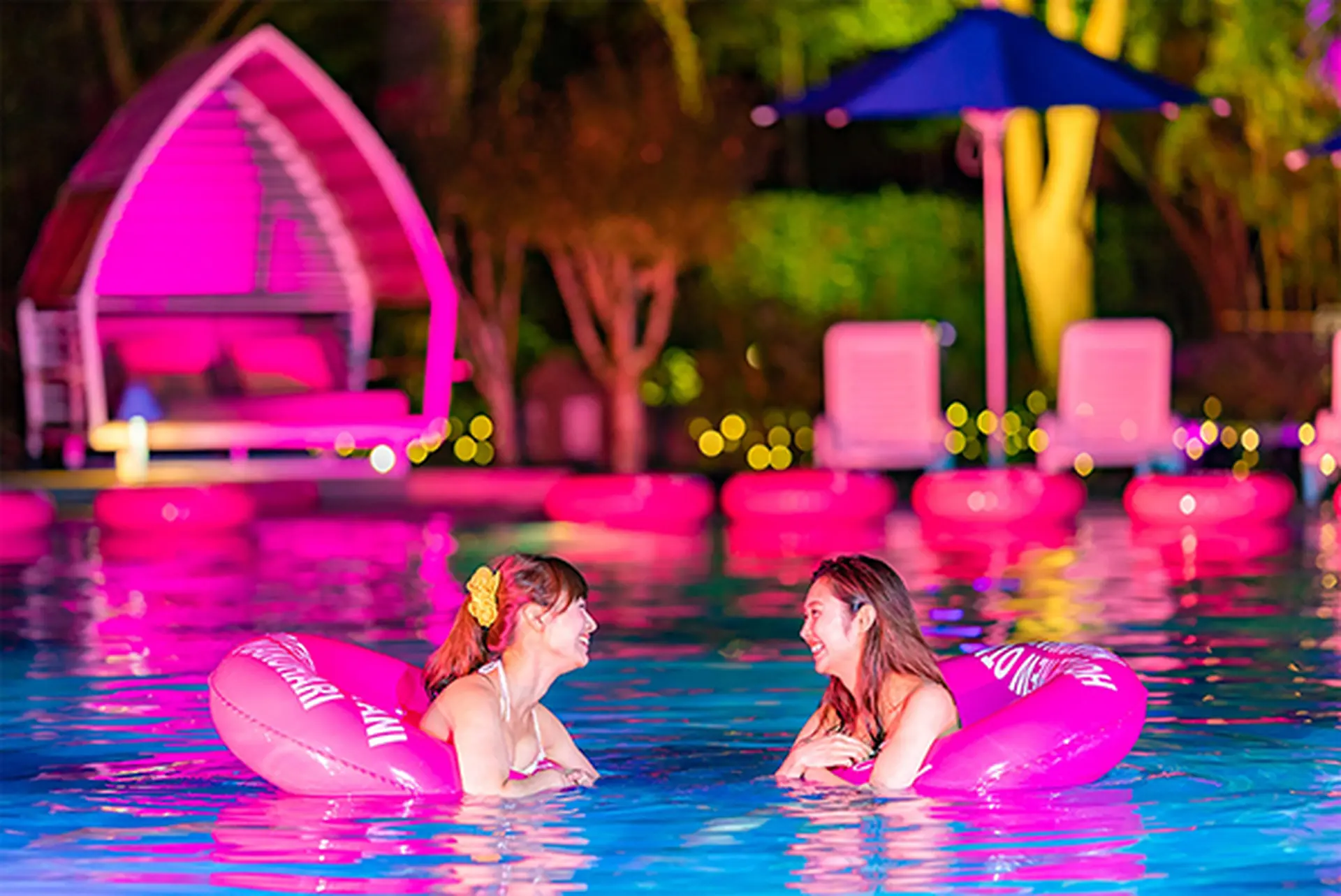 7) In the Shade
Leave the sarongs and sun loungers under umbrellas for guests who want to relax and hide from the sun for a while. Place them close to the water, so no one gets wet when a friend jumps in.
8) Lighting is Everything
If you're hosting a pool party at night, this can have several advantages. One is that you're not dependent on sunlight to determine the day of the party. Another is that you can invest in lighting that will make the pool area look much more beautiful. It's worth placing torches around the pool, and if you don't have indoor lighting, then portable models of waterproof lights that float are available in specialist shops.
9) Music for Everyone
And, of course, there must be music! You can determine the playlist in advance, or better yet, ask your guests to list the music they like and make a joint list. That way, the party will have songs that everyone can choose – and no one will be upset that they didn't get to hear what they wanted.
Do you have any other tips? Share it with us in the comments below!