If you decide to get married at Christmas, there are many ways to make sure your special day goes the way you want it to without being in conflict with the season. Do you like Christmas carols? You can choose all your favorite carols at a church wedding at this time of year! But even if you are organizing a civil ceremony, there is no reason why you can't incorporate a Christmas theme, even if you can't directly involve the holiday since it is religious in nature.
Don't forget that many people make plans for Christmas. So you can send out your invitations very early, even three or four months in advance if you can. To have the best chance of receiving all your guests, remember to send "reserve the date" cards as soon as you have booked your room.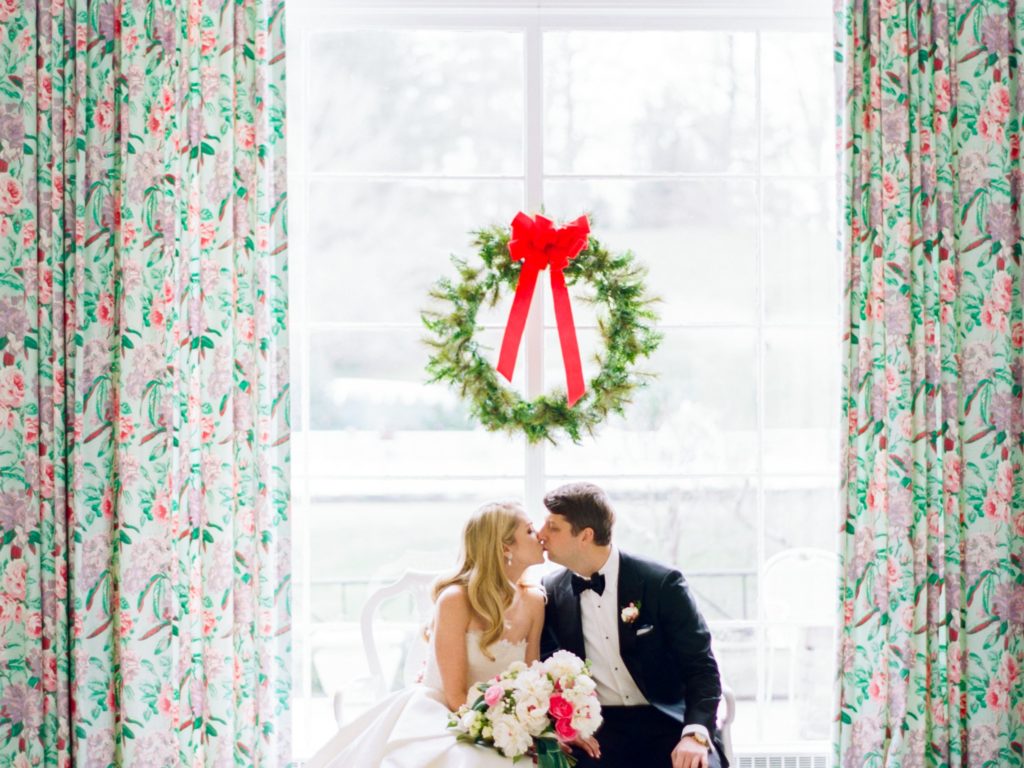 Hang up the stockings
We don't recommend curly-fingered elf costumes or pretty red Santa Claus outfits, but there's no reason why you can't incorporate a little Christmas spirit into your wedding outfits. You can opt for a bolero or a shawl to keep warm, and add faux fur ornaments for a truly luxurious feel. But don't be tempted by a very warm dress, as you may need to cool down a bit once you start dancing at the reception, so it will be best to be able to take off your winter clothes.
The traditional Christmas colors are red, gold and green. They can be used as they are or for the accent colors of more sober outfits, ribbons and flowers for bridesmaids, ties or vests for groomsmen or pages. If you are worried about the weather, get ready with a beautiful umbrella style umbrella in matching colors!
Room decoration
Winter and Christmas weddings are largely completed with ivy and berry decorations, as well as many candles in rich and warm colors. Don't forget to check with your wedding planner to make sure you can have candles.
Having said that, make sure you work with the existing colors of your reception venues to avoid conflict with your wedding. If the reception hall is equipped with a pink carpet, you will probably want to avoid the intense red theme, as it will end up looking strange! You can work both with and around the colors of your reception. If the room has touches of rich colors such as reds, golds or deep greens, it will easily match a traditional Christmas theme. But you may just as well opt for a snow and ice theme in the "winter wonderland" style if the venue is decorated in blues, purples or cooler whites.
Filling the turkey
Ideally, you'll probably serve a roast turkey or goose with all the usual toppings for a Christmas wedding dinner, followed by a Christmas pudding or iced fruit cake, perhaps with a brandy butter sauce. But nothing prevents you from embarking on something a little more unusual. For a slightly different twist, how about having a separate turkey on each table for guests to help themselves, or serving mincemeat pies instead of mints, or serving mulled wine and eggnog instead of champagne and coffee? You can even make a complete break with traditional foods and opt for a festive-style buffet; you can choose the theme of the tables and plates according to your main color and serve the right appetizers.
If fruit cake is normally associated with Christmas, there's nothing wrong with having a decorated sponge cake (you can even frost it with the same theme) or a chocolate cake (how about a giant chocolate log wedding cake?), so don't feel pressured if you don't like fruit cake. A croque-en-bouche presented with your wedding theme can make a stunning centerpiece, and for the more original, you can even have tasty fillings in the profiteroles.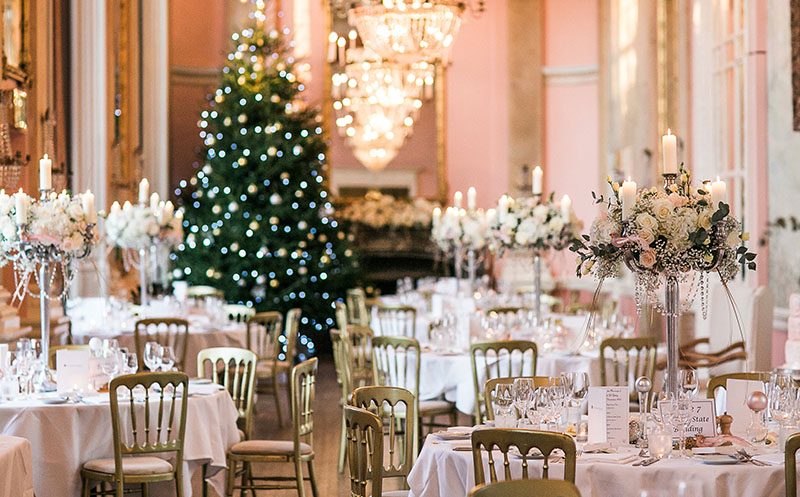 Choose the tree
Your florist can advise you on the flowers in the colors you want and that will be available during the Christmas period. Why not have a Christmas tree decorated with the same colors as your main theme (or several, if your room is large)? Keep in mind that prices may increase as flowers become more popular during the holiday season. If budget is an issue, you may want to consider alternatives such as poinsettias (usually red, but you can get them in cream and pink), mistletoe and of course holly branches. Mistletoe, in particular, makes a nice "trim" style flower, especially in a bouquet.