Are you organizing a party or an event soon in Belgium? Surprise your guests and invite them to an elegant castle that combines class with efficiency. More than any other building, a castle makes your guests dream and gives them the necessary positive vibes. We already have a list of 5 beautiful castles for your special occasion.
1) Brasschaat Castle
Brasschaat Castle is a unique venue in a beautiful park, dating back to the 17th century. The fireplace in the lobby, the large terrace, the fountains, the rose garden, and the pond give the castle a relaxed and welcoming character. Seven different rooms for up to 1,000 guests are at your disposal for the most diverse activities, from a private party, meeting, or seminar to a base for your off-site team building or sports activities.
2) Ter Ham Castle
In Steenokkerzeel, a 15th-century moat castle, Castle Ter Ham is a well-kept Belgian secret. Top negotiators from the political and business world have already met here in complete tranquility and confidentiality. This is the right place for a special meeting, a business event or an exclusive conference. The smaller and larger meeting rooms alternate and are rented separately, but the entire castle with a courtyard is also available. The castle has a capacity of approximately 100 people. Tailor-made catering can be ordered, and the on-site staff will be happy to assist you.
3) Terblock Castle
In the heart of the Sonian Forest lies the 19th-century Terblock Castle, a majestic castle located in an oasis of peace and beauty in Overijse. The setting is breathtaking and therefore provides the ideal backdrop for parties and events of all kinds, from seminars and receptions to family reunions and client events. You can organize your own team-building activities and company parties inside and outside the castle, but also for concerts and garden parties, and even stage performances; this place is a designated venue. The well-equipped rooms guarantee an excellent technical development of your business or private event. The castle can accommodate 800 people for a standing dinner or 400 people for a seated dinner. The 4 seminar rooms on the second floor are available for smaller groups.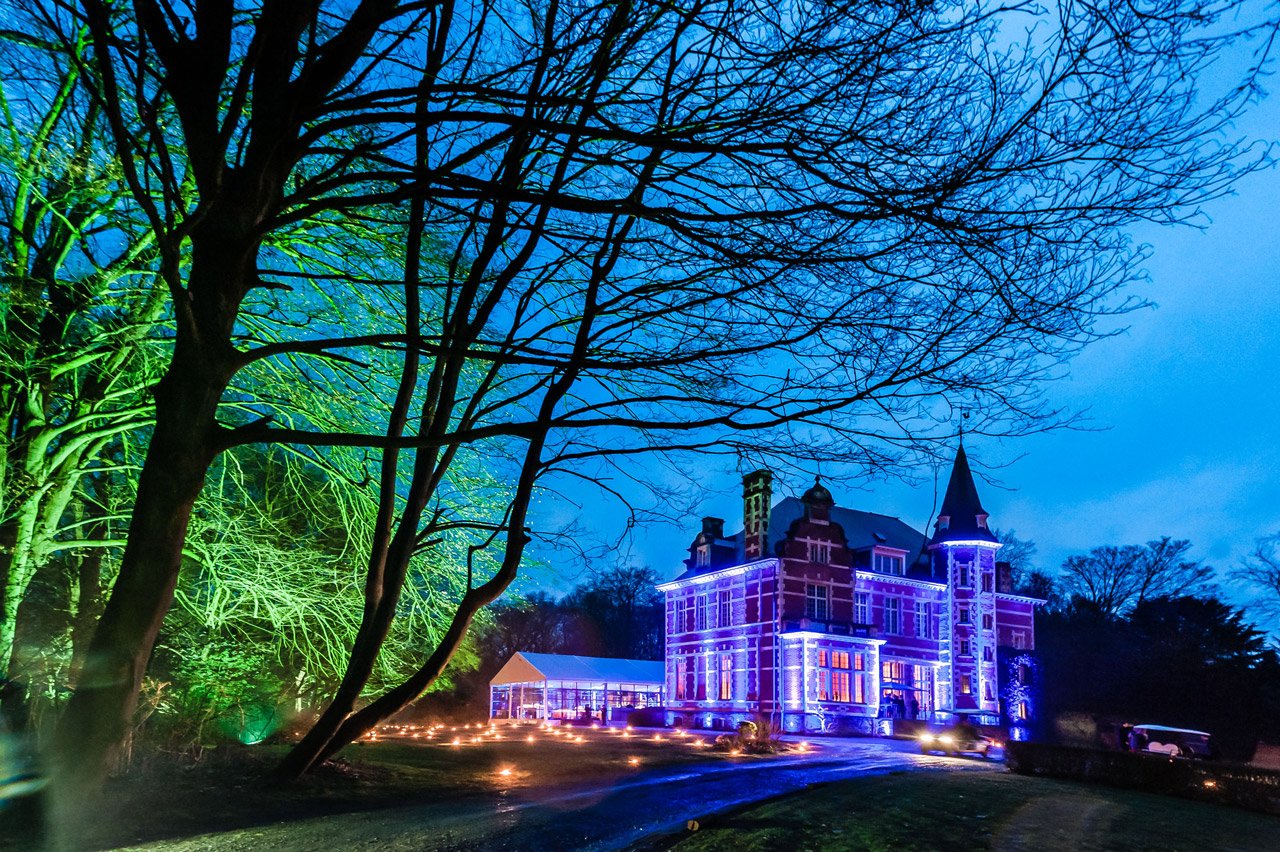 3) Ruisbroek Castle
Just a stone's throw from Brussels is Ruisbroek Castle, an 18th-century estate bathed in ivy. Your event here will be surrounded by the castle's rich green décor and historic moats. Step back in time and stroll with your guests through the halls with sumptuous baroque interiors or through the sunny orangery overlooking that Italian garden. You can welcome up to 500 guests at the castle and enjoy the delicious dishes of the caterers.
4) Te Lake Castle
Te Lake Castle is a beautiful 18th-century walled castle on the banks of the Leie in Zulte. A long path leads you to the entrance gate. The 3-hectare park and idyllic ponds offer all groups a sense of comfort and relaxation. This exclusive venue with its lounges, orangeries, and relaxation areas is wholly entrusted to your care and inspiration for your party or event. Plan your event in the sunny orangery (250 seated or 500 standing) overlooking the castle park and then relax in the beautiful rooms in authentic rococo style. Traiteur Leconte is the permanent resident caterer at Te Lake Castle.
5) La Hulpe Castle
On the green outskirts of Brussels lies the Domaine de Solvay, which includes part of the Forest of Sonia and the Château de La Hulpe.  This vast domain of over 200 hectares can be the beautiful backdrop for an exceptional event, from seminars and symposiums to parties and receptions for up to 400 people. Based on the French châteaux of the Loire and its classicist garden architecture, this venue invites its guests to enjoy French salon culture with all the refinement and intimacy it entails, as well as to stroll endlessly through the spacious gardens. Body and mind reach a new harmony here.
Which among these magnificent castles are you considering for your next event? Let us know in the comments below!