Diwali is right around the corner, so better get ready to celebrate it. If you are Indian, this is among your top 5 desi events that you love. Diwali or Deepavali (its South Indian name) is known as the festival of lights and it celebrates the victory of light over darkness. Whether you are in Indian or part of the Indian diaspora, you have to celebrate Diwali; here's a guide to throwing the perfect party.
What is Diwali?
It is one of the major Hindu festivals celebrated worldwide and is associated with Laxmi, who is the Indian Goddess of prosperity. It is the festival that marks the victory of Rama, one of the avatars of Lord Vishnu, and side note for all the geeks out there; this is one of the inspirations for Avatar: The Last Airbender, over Ravana. It celebrates Rama and Sita's journey back to Ayodhya (his kingdom) after 14 years of exile. Because of this, we celebrate this by making delicious sweet treats and sharing them with our close friends, relatives and neighbors.
Prior to decorating
Before you start anything, you ought to clean your house, a bit like a second spring cleaning. The festival's objective is to welcome Laxmi into your home so that she can bless it, and a clean house is a sign of respect and piety. The old saying goes, cleanliness is next to godliness, which is especially true in Diwali. You also have to perform an arthi or prayer to purify your home and get rid of all the bad juju.
Tips for decoration:
Make a rangoli: This art form started in the Indian subcontinent and is a pattern created with color powders and/or rice usually made on the floor. Most designs are usually well-guarded family secret that is passed down from generation to generation. But, you can easily watch tutorials on Youtube to get an idea and visual aid on how to recreate or design your own personal rangoli. Their purpose is for more than mere decoration; the powders used to make them are usually limestone and cereal, which is supposed to prevent insects from getting inside; it's a 100% natural bug repellent. According to the celebration, rangolis are usually simple geometric shapes that take the form of Deities, flowers, and petals.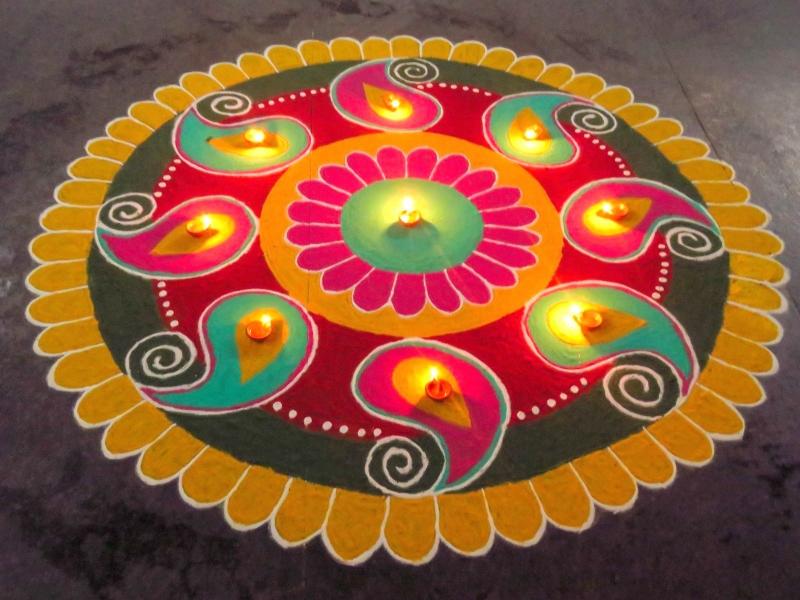 Light up your house: After all, this is the festival of light; what would it be without the diyas/lamps. According to the mythology, lighting diyas is an important and unavoidable part of the festival; it is part of the arthi ceremony and signifies purity, good luck and power. Nowadays, people get creative and create all sorts of designs with fairy lights and there are even some local competitions where the best-decorated house is given an award.
Put your best garments: Diwali is supposed to be a celebration, so deck up in your best Indian wear, be it your fancy saree, your kurta, or even an ornate dhoti. But remember, wear new clothes, don't skimp out on this one. This is your time to shine with your favorite new outfit and according to Hindu scriptures, it is beneficial for our spirit. And don't forget Laxmi is visiting your house on this day, so you better dress to impress.
Sweets/Mithai: In my opinion, the best part of Diwali, after being put to work by your mom to clean the entire house, treat yourself with mithai. Food plays a great part in any Diwali celebration, so again don't withhold anything. Go big or go home; we celebrate Diwali only once a year, so you better be on your A-game. If you aren't a big baker like me, you should consider buying your favorite sweets from your local Indian store. Most Indian sweets are fudge blocks of sugar, milk and Indian spice. My all-time favorite is gulab jamun; think of a doughnut hole, but on an asteroid, it is basically a dough made of milk and flour that is soaked in syrup. Enjoy your gulab jamuns cold and it's a bit like Pringles; once you start eating it, you can never stop. Don't forget to share these sweets with your loved ones because, after all, it is the festival of light and sharing.
Get into the festive season and remember as long as you are having fun, you are doing Diwali right. After doing these, you just have to sit back, relax and enjoy your well-deserved Diwali. Remember always eat in moderation, but Diwali only happens once a year, so you can indulge on this day and have a cheat day on your diet.