There' s just something magical about mermaids, which is why it's also a fantastic theme for a children's party. Such a party revolves around the beautiful blue-green colors of the sea, wavy hair, cute sea creatures, it's always so much fun, and kids always enjoy it! Besides, there are several ways to organize a mermaid party. Here are some ideas and tips that could help you if you want to surprise your little one with an amazing mermaid themed party:
1) The Guest List
A magical and sparkly mermaid party starts with sending out a mythical invitation. Who would you like to invite? Since this isn't always easy, we have some tips for putting together the list:
-Choose guests for the mermaid party together. Who does your child usually play with?
-In addition to inviting the children to the class, we recommend that you also check out the neighborhood friends and the nieces and nephews your child likes to play with.
It's never nice not to receive an invitation to a party, especially if you were expecting it. So simply mail out the mermaid party invitations or carry them by the houses.

2) Mermaid Invitations
Is the guest list ready? Then it's time to craft (or buy) a mythical mermaid invitation. Do you like to craft? Then sit down at the craft table with your son or daughter to make some suitable invitations. Here are some ideas to help you:
Mermaid card – Google a magical mermaid coloring page and print the desired mermaid image in A6 size on A4 size. Then, to give an extra magical touch to the mermaid, pick up a colored paper for the card, for example, navy blue, metallic blue, or pearl. You can make the mermaid invitation resistant to tears and wrinkles by choosing a slightly heavier paper (minimum 120 grams). Next, fold the colored paper twice (to form a card). Glue the mermaid coloring page onto the invitation with a glue stick and add an invitation text.
Super festive invitation – Think an ordinary card is too plain and want a unique mermaid party invitation? Then plan a craft afternoon with your son or daughter and set about creating a sea castle, colorful shells, or a sparkly mermaid tail.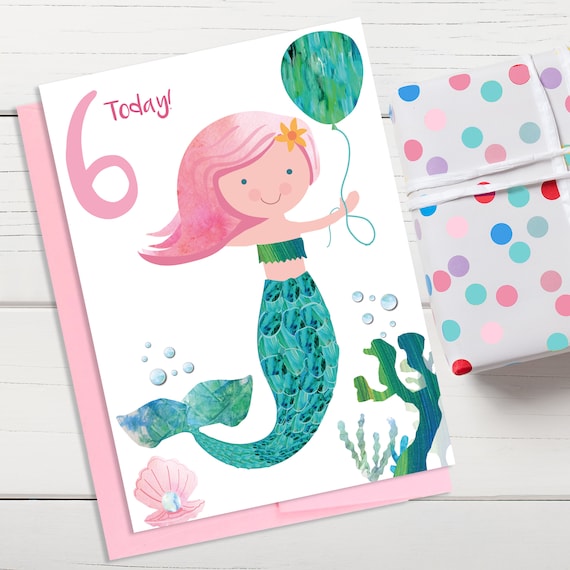 3) Mermaid Party Decorations
The school bell rings! It's time to gather all the partygoers and leave together for the mermaid party. Give it an impressive start with an original and magical entrance. To do this, turn the door through which children enter into a sea castle door or an aquarium view.
Short on time or don't feel like tinkering? Then buy a few rolls of crepe paper in blue, green, and purple, cut out ribbons, and hang them above the door as a magical entrance. To complete the picture, you can dress up the space behind the door with a natural coral sea with blue and gold fabrics, a sea castle, fish, and mermaids (you can print them out and glue them on the materials). With this magical entrance, the mermaid party immediately comes alive!
Time-saving tip: order an excellent decoration package for a mermaid children's party online. That way you'll have everything at once for the mermaid birthday party to have the house ready.
4) Mermaid Snacks and Treats
After entering the venue with the coral or sea castle, all the children gather at the table for a treat, drink, and hand out the gifts. The food must meet two requirements: be tasty and in line with the mermaid theme. There are tons of fun and easy ways to make mermaid treats that match the theme. Here are some to inspire you:
Mermaid Cake
Buy or make a cake and cover it with light blue or purple fondant. Apart from a mermaid view, you can also buy various mermaid-themed decorations and put them on the cake. Think small fish and a sandcastle.
Mermaid Lollipops
Dip a marshmallow or strawberry in melted white or milk chocolate. Use colored fondant to make a shell or starfish. Stick the figures onto the melted chocolate with a mixture of powdered sugar and water. Then insert a lollipop stick or skewer, and voila, your strawberry/marshmallow/chocolate mermaid lollipop is born!

5) Mermaid Games
A mermaid party can only be complete with good mermaid games. Fortunately, coming up with mermaid games doesn't have to be complicated: easy and fun games can be turned into a mermaid game in no time at all.
As you can see, a little creativity can go a long way in organizing a mermaid party. Do you have any creative tips? Let us know in the comments below!