Halloween is one of my favorite holidays out there; it is the one time of the year when we can fly our freak flag openly, and this is why it is never too early to start thinking about the preparation for your upcoming Halloween. It is the one time of year when kids and adults alike can wear whatever they want, and that makes it so great for me.
Throwing a party for Halloween is one of the best ways to spend and celebrate this spooky holiday. You can dress up as your favorite marvel character, villain, or whatever you want, and most people won't bat an eye about this. So, without further ado, let's dive into this blog and learn some of our tips for throwing a monstrous Halloween party this October.
1. Send out invitations
If you are planning a Halloween party, the first thing you need to take care of a week or two before the party is to prepare the invitations. For this purpose, we recommend creating flyers to let your friends know the details. To avoid any confusion, clearly indicate the start time and the theme.
Costumes are also very important, so be sure to let your guests know if they should dress up or not. In fact, it can be really embarrassing if someone arrives in the middle of the party and sees that no one else is in themed clothing!
2. Themed decoration
When it comes to atmosphere, another must-have for a successful Halloween party is spooky decorations. In addition to the traditional hollowed-out pumpkins, paper bats, and fake spider webs, take inspiration from your party theme to create a more elaborate and original decor.
You can transform your home to look like a haunted house. First, you can buy themed decorations like inflatable skeletons and skulls with glowing eyes. It's best to go for accessories that you can reuse next year, and that are easy to store. But to save money, there are Halloween ornaments you can make yourself.
For example, carved pumpkins. Try different ways to decorate them:
Spray them with metallic paint to get a golden glow.

Use black paint to draw faces (avoid black faces because this isn't a minstrel show).

Write messages.
You can make bats or spiders out of old egg cartons and hang them up to scare your guests. Finally, use dry ice to create an eerie haze.
Even at home or in a single apartment room, it is possible to create a stunning decoration as long as you have the right accessories. And above all, don't forget the lighting! Dim and strange lighting is an excellent way to create an eerie atmosphere. Therefore, don't hesitate to equip yourself with LED candles, string lights, and colored lights to bring the final touch to your Halloween decoration!
3. Food and Drink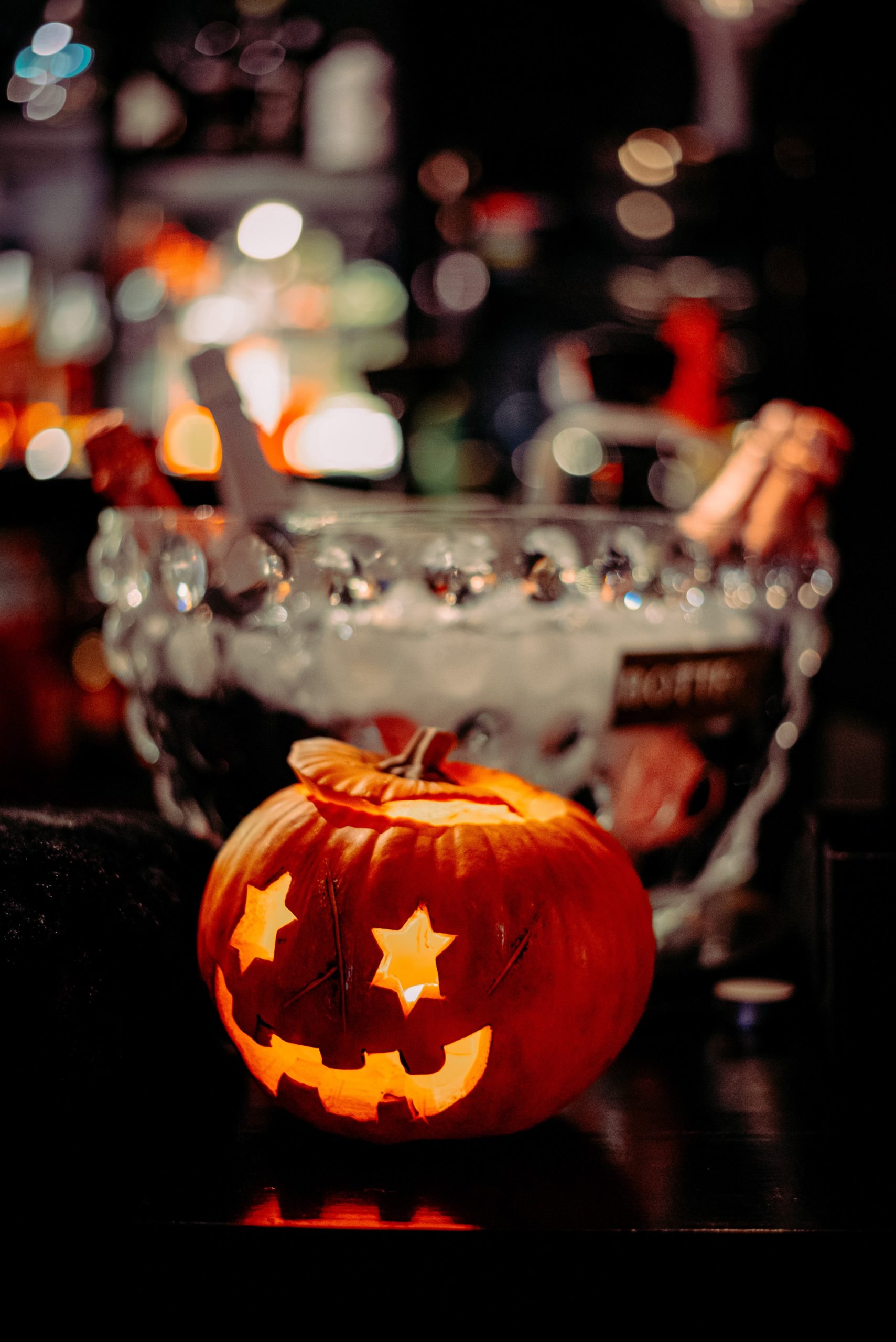 There are plenty of Halloween-themed foods you can serve to your friends. Although you can prepare everything at home, professional event planners recommend using catering services in case you have invited a larger number of participants.
At a Halloween party, especially if everyone is wearing a costume, it is easier to prepare a buffet of appetizers rather than a traditional meal. This way, people can help themselves. Good foods to offer include mini quiches and pizzas, vegetable dips, small sandwiches, and salads. It's also a good idea to make a large batch of punch. Serve it in a large pot (which you can decorate to look like a cauldron) and give it a spooky name such as "Witch's Magic Drink".
Consider making glass jars full of different types of candy. Buy a variety of gummy treats in the form of body parts (feet, ears, and eyeballs). Also, "ghost" or "black cat" cupcakes and cookies are easy to bake at home. For even more Halloween party spirit, make pumpkin cupcakes, sausage mummies, and bloody dough fingers. If you're serving alcoholic beverages, plan on three to four cocktails per guest for a two to three-hour party. Be sure to have heat-resistant cups if you offer a hot drink.
4. Entertainment
Put together a playlist of favorite theme songs. There is also the option of using a soundtrack of scary sound effects (sharpening knives, heartbeats, howling winds). Finally, there are special Halloween party CDs available in online stores.
Keeping your guests in a good mood throughout the event should be a priority for you. Games, such as scavenger hunts and quizzes, are usually among the favorite forms of entertainment. Games are also a good idea to help people relax and get to know each other better. Regardless of whether you're hosting a costume party or not, it's always fun to have extra dress-up items. So make sure you have masks, wigs, plastic fangs, hats, capes, etc.
Lastly, play classic horror movies in the background (muted if you don't want the sound to be distracting) for part of the evening. However, try not to structure the party program too much because, in any case, adults like to have time to chat.
Sound off in the comments section below and tell us what you want to read next and if you want to read more about throwing a killer Halloween party.