Summary
 – Step 1: Create a pretty tan
 – Step 2: Draw a red headband and bow
 – Step 3: Draw white polka dots on the headband
 – Step 4: Create a pirate eye patch in black
 – Step 5: Make it shine with glitter
 A birthday party, carnival, Halloween, or fair are all opportunities for kids to indulge in their favourite activity: putting on makeup. Since the Pirates of the Caribbean, many little sailors want to look like Jack Sparrow. It's an easy makeup and quite quick to implement.
 Equip yourself with red, white, and black watercolours and discover how to make pirate makeup worthy of the best crews.
 Note: Make sure the makeup products you use are of high quality. Please make sure they are hypoallergenic and gentle on children's delicate skin.
 1. Create a pretty tan
 Pirates have a tan from travelling and the sun.
 If your child has a fair complexion, use a large powder brush to apply a veil of sun powder all over her face, neck, and hands.
 2. Draw a red headband and bow
 Dip a wide, flat brush into a glass of water.
 – Liquefy the red water blush by running the moistened brush over its surface until it has a creamy consistency like gouache pellets.
 – Draw a wide red stripe on your model's forehead.
 – Add a bow to the side of the face. You have the base of the headband.
 – Draw a thin line on the top of one cheekbone to represent a scar.
 Note: Correcting a line you don't like with a cotton swab simply dipped in water is perfectly possible.
 3. Draw white dots on the headband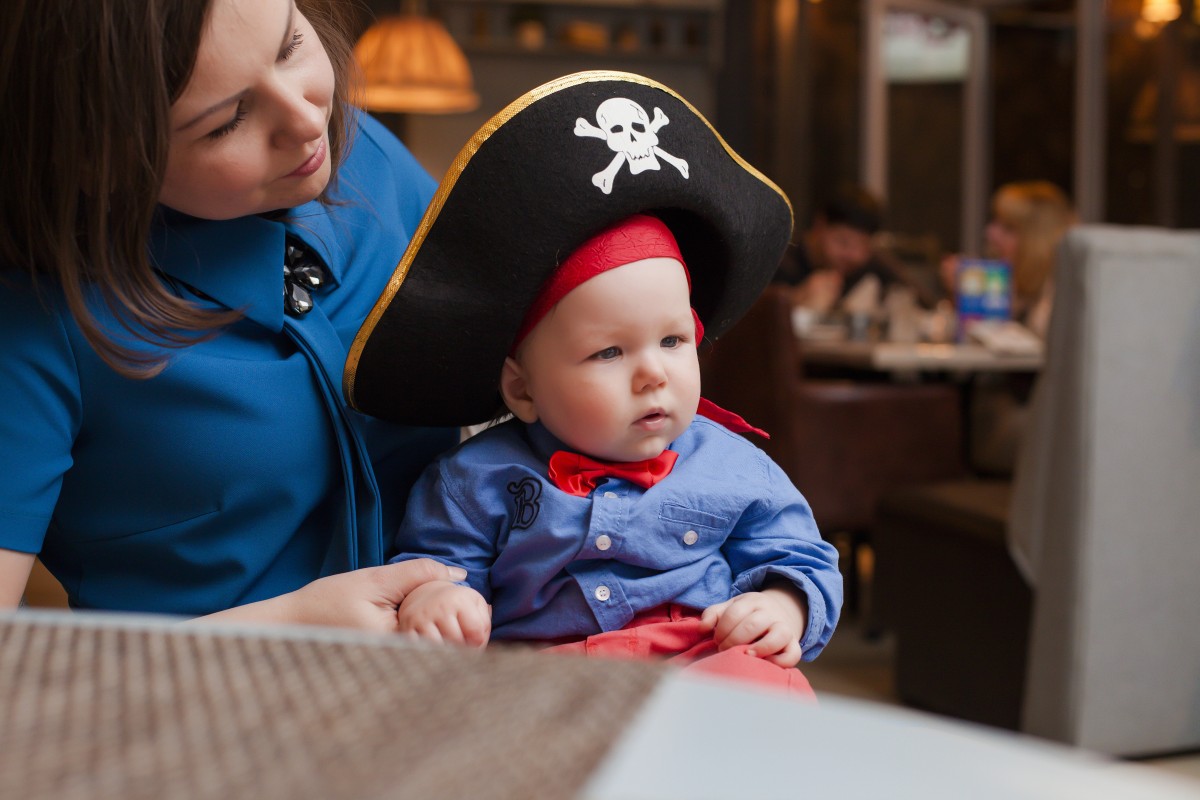 Rinse your brush and pick up some white watercolour.
 – Draw white polka dots on the headband.
 Note: You can also apply white makeup dots with your fingertip to easily get a nice round shape.
 4. Create a pirate eye patch in black
 Rinse your brush in your glass of water and pick up some black eye shadow.
 – Draw a black area around one eye to create an eye patch.
 – Show the links that hold the eye patch in place by drawing a line on either side with a thin brush.
 – Keep the brush thin to outline and crease the eye patch.
 – Draw fuller eyebrows with a series of small strokes.
 – Add a mustache and goatee to your buccaneer.
 – If your model is tall enough, wipe your brush on a tissue to remove excess black makeup and sweep it under the unmade eye.
 Note: To create an "unshaven" effect, use a dry natural sponge to apply black blush by dabbing it onto the desired area.
 5. Shine with glitter
 This type of character doesn't lend itself well to adding glitter. However, kids love their makeup to glitter, so don't be afraid to offer them some.
 Note: make sure you use cosmetic glitter and not glitter found in the hobby department, as it is not suitable and can irritate the eyes.
 Materials needed to make a pirate makeup
 Cotton swab 
 Vegetable sponge 
 Fine makeup brush 
 Brush for foundation 
 Glass of water
Read more about decorating for events: